Exclusive
Suri Spends Thanksgiving Without Dad Tom Cruise, Celebrating With Mom Katie Holmes & Her Family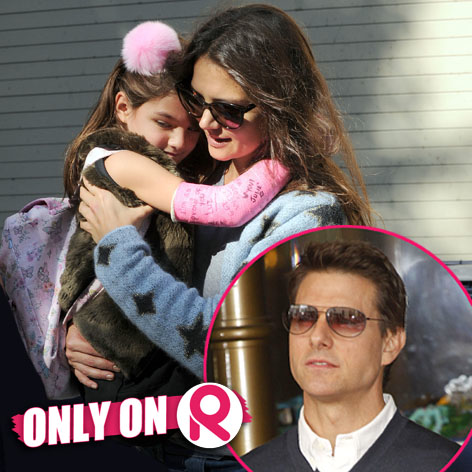 While Tom Cruise is in court battling allegations that he "abandoned" his little girl, Suri, following his divorce from Katie Holmes, RadarOnline.com has exclusively learned that father and daughter are spending the Thanksgiving holiday apart.
Early Thursday morning, Holmes and Suri boarded a flight from New York's LaGuardia Airport to Detroit, Michigan. The quick hop landed them less than an hour from Toledo, Ohio where Holmes' parents and siblings live.
Article continues below advertisement
"They were in first class and Suri was adorable and so-well behaved," an eyewitness tells RadarOnline.com.
The news that Suri is spending the holiday apart from her famous father comes at an ironic time, just as he is fighting the publisher of InTouch and Life & Style magazines for saying he'd "abandoned" Suri.
In depositions obtained exclusively by RadarOnline.com, the Mission: Impossible star was forced to admit he went nearly four straight months without seeing Suri following his divorce from Holmes, that he missed her first day of school last year, and from June to November, 2012, he spent only 10 days with his daughter.
Cruise is suing the publisher for $50 million in the libel action and insists he is an attentive and loving father, who stays in constant contact with Suri through phone calls and emails as his film commitments take him all over the world.
As RadarOnline.com reported, on Tuesday, the judge overseeing the case tossed out the Cruise defense argument that Bauer Media is pro-Nazi, an allegation the company has called "bizarre."
Judge Jacqueline Chooljian ruled that whether Bauer has anti-Semitic ties is outside the scope of Cruise's defamation lawsuit.