Katie Holmes Says She's In For A 'Dawson's Creek' Reunion, Gushes About Her Dream Of Playing 'Wonder Woman'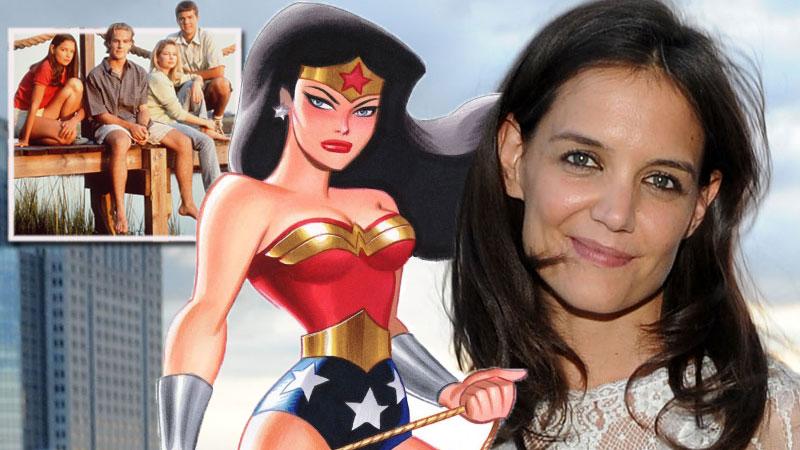 Dawson, Joey, Jen and Pacey reunited? Believe it or not, Katie Holmes says she's in for a Dawson's Creek reunion!
Tom Cruise's ex-wife sat down with Jenny Hutt of Sirius XM's Just Jenny to talk about her future filming plans, dream roles and her love of Taylor Swift.
"You know I don't know because when we did our last finale it was five years ahead and we lost Jen Linley, so I don't know what the story would be," Holmes, 35, said when asked about a Dawson's Creek reunion.
Article continues below advertisement
"However, if everyone else was doing it, yeah for sure, I mean, we had a really good time! I love everyone, so yeah!"
Holmes is currently filming Woman in Gold, but told Hutt her dream role is to play . . . Wonder Woman!
"I wanna be Wonder Woman! That's who I wanna be," she said.
"I might need a tramp stamp!"
Promoting her new movie The Giver — in which Swift made a small appearance — Holmes says she's a big fan of the country starlet.
"I'm a fan of Taylors. She's such a brilliant songwriter and singer and a wonderful actress. I did get to spend some time with her on this movie," Holmes said.
"She's just lovely and she's very wise . . . very, very wise!"
And it's no surprise that Holmes, like many actresses, adores Meryl Streep.
"It was very, very exciting to get this role and I have met Meryl before and this was obviously the first time I've ever worked with her and just really exciting!" Holmes said.
"I was nervous, but she's so lovely and generous, sweet and funny and professional, and she just makes everyone feel very good so you're immediately at ease and she's just lovely!"
Earlier on Wednesday Holmes appeared on the TODAY Show where she told Matt Lauer she had no regrets about her failed marriage to Cruise.