Exclusive
He's Back! Kate Gosselin's Bodyguard Steve Neild Caught Vacationing With Her & The Kids After Rumors He'd Gone Back To His Wife — SEE The Photo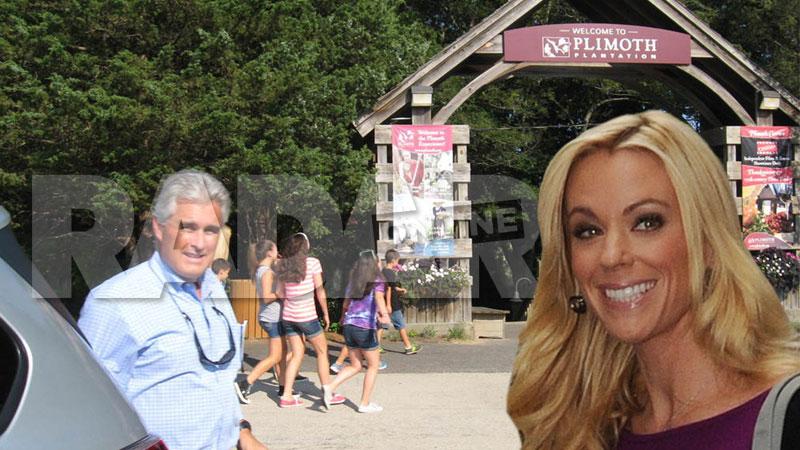 No wife, no problem! That seems to be the mantra for bodyguard Steve Neild, as he spends the summer cavorting with Kate Gosselin — and without his spouse, Gina. Just days after he and his supposed employer were spotted hanging with her reality TV kids at a One Direction concert, RadarOnline.com has learned that Neild joined the monster mom and her brood for a family vacation to Massachusetts!
On August 11, Neild, Gosselin, and her gaggle of kids were spotted visiting Plimoth Plantation in Plymouth, Mass.
Article continues below advertisement
"We noticed Kate and her eight kids walking towards the entrance," eyewitness Jennifer Kelly tells RadarOnline.com exclusively. "I had my camera in hand and when I went to take a picture of Kate and the kids, Steve Neild came around the car and ended up in the picture!" Gosselin's twin daughters, Mady and Cara, a friend, and one of the sextuplets appear in the background.
"I was a bit shocked as he bolted around the corner, and I said, 'Hey, I know who you are!'" Kelly explains. "He said, 'Who's that?' And I said, 'You're Kate's bodyguard, Steve!' He replied, 'Yup!'"
While Kelly didn't notice any PDA between Neild and Gosselin, she reveals, "Steve rode there with Kate and the kids. My husband was about five feet behind me and he said that he saw Steve, Kate, and the kids getting out of her black sprinter van, the BBB, as she calls it."
What's more, Kelly claims, the vacation was being captured by reality TV crew cameras!
"The film crew was shooting to the right of the photo, as Kate and the kids were heading in," Kelly says. "Steve kept standing in front of me and blocking my view. It was about 4:45 pm and they closed at 5 pm. I assume that they were either shooting for a new special or Kate Plus 8 is coming back!
Neild and Gosselin were last spotted together on August 5 at a One Direction concert in New Jersey, as RadarOnline.com reported.
Earlier this summer, rumors had swirled that Neild had left his post with the reality TV family to go back to his wife and kids after years of romance rumors surrounding him and Gosselin.