Exclusive
'Kate Didn't Write One Word Of The Book,' Former Gosselin BFF Slams — Adding Jon To Cover Was Just A Ploy For More Money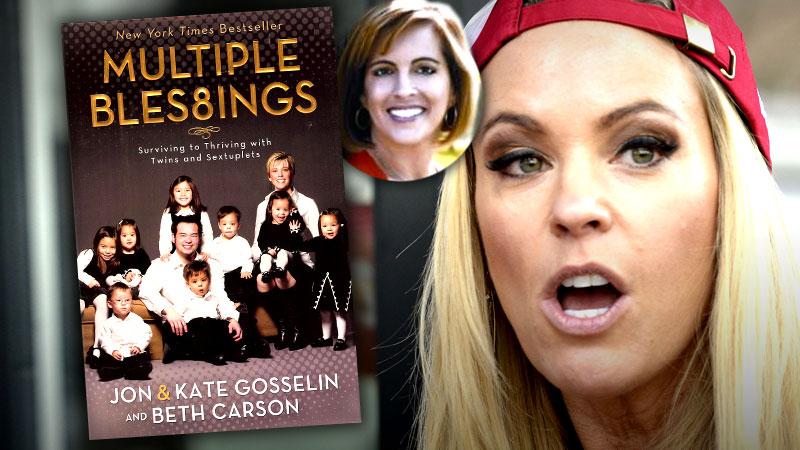 Article continues below advertisement
"Kate and I would sit around feeding our babies, and Kate would talk. I would take notes and made it into a book," Carson told Radar.
"Absolutely. I wrote the entire thing. Kate didn't write one word of the book. I wanted to take nothing away from the fact that it was her story, but I put a lot of work into it."
The problem, Carson says, came when it was time to go on tour to promote the book — something she says she and Kate had excitedly talked about in the past, but she was pushed out of when the time came.
"That was sort of the last straw, it was a smack in the face ," Carson said.
"That process wasn't hard," Kate answered in a 2008 interview in Michigan at a book signing when asked about authoring it.
"It was the time to write the book. It took us a year and a half. I started when the little kids were two and to re-live all of those things that we had been through was probably the most difficult part. As far as the book went, that was easy."
Article continues below advertisement
What's more, Carson says Jon had no part in putting the book together but was headlined as an author anyways.
"I didn't know that Jon was even on the book until it was published and Kate tried diligently to get my name removed from everything," Carson revealed, noting it was the end of their friendship.
"Kate tried very, VERY hard to get my name off everything and take my cut."
It's not the first time Kate has been slammed for taking credit on a book.
In 2013 the mother-of-eight released a cookbook, Love is in the Mix: Making Meals into Memories, and it was quickly criticized by fans who claimed the recipes in her book were stolen "from product boxes and magazine articles."
Even a recipe for Monkey Munch — a treat for her family that was featured on Jon & Kate Plus 8 — was the exact same recipe featured on the Chex cereal website, another fan pointed out.
"What a terrible waste of time and money. Recipes seem to be recycled from the back of soup cans and internet recipe sites," a reviewer wrote.
While another sounded off, "The measurements are insane. 2 or 3 cloves of garlic? 2 or 3 cups of rice? What is it? 2 or 3??? I'm also a little disappointed in all the family photos. If I wanted a family album I wouldn't have bought this book."
"It's just too bad that Kate's thirst for the limelight was so strong," Carson added.