Kate Gosselin's 'Heartbroken' Sister Speaks Out For The First Time: 'She Wants A Big Life And We Don't Fit In'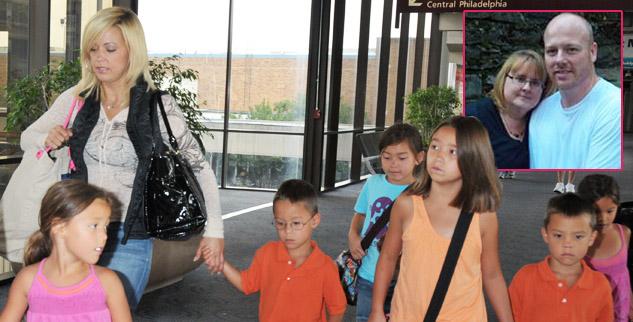 Article continues below advertisement
The kicker — Kendra only lives a few miles from Kate's home in rural Pennsylvania.
"Kate does not speak to her family at all. It is very painful… The last time we saw and spoke with her it was in our church parking lot. That was years ago, I have lost track of time," Kendra told the Mail Online.
"I guess we weren't totally on board with what was going on with the kids, I guess we weren't excited enough for her and were concerned about her family."
Kendra added, "Years later the divorce came about and we had every right to be. But there was no conversation and no argument. I guess we have our own life and she wants a big life and we don't fit in. We are just normal everyday people and she doesn't want us to be part of her life."
Kendra expressed her sadness at not being a part of the Gosselin children's lives, hoping they will try to find her on their own when they're old enough.
Article continues below advertisement
"My sister-in-law Jodi Kreider and I get talking about the past and we don't understand what she's thinking. When the kids get old enough are they going to come and try to find us? I hope so," Kendra said.
"What are we going to tell them? We'll have to tell them we tried to get hold of their mom, we tried to be part of their life, but we weren't allowed to be. We didn't leave her, she left us."
Kendra claims she's tried hard to get in touch Kate and would love nothing more than to spend time with her nieces and nephews, but she never hears back from Kate.
"I send a Christmas card every year, but I never hear anything. It's hard, it's really, really hard. I don't know why. It's terrible because my children, their cousins, talk about them and wish they could see them. We have our memories from years ago, but we have no contact," she said.
"It's very painful and it's hard when people ask. People who know me ask and it's so hard because they ask me things and I can't answer because I haven't seen her. I love her and wish she would be open with us, but she's not."
Article continues below advertisement
According to Kendra, Kate doesn't even speak to her own parents anymore.
"Kate is incredibly charismatic and there were a lot of people who were drawn in and willingly laid down their everyday lives for those kids. None of them have any contact with her now," a former pal revealed.
"There's a trail of a lot of hurt people in her wake. I don't know if Kate even cares about that. There were older women in the community who were at her house for three, four, five hours every day for two years. Their lives revolved around the children and now they have no contact with them. We don't even know whether the kids know about us and realize what we did for them."