Radar Told You First! Gosselin Twins Respond With Awkward Silence When Asked If They Speak To Their Father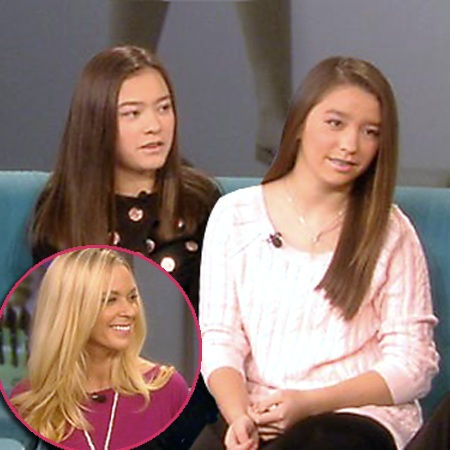 Article continues below advertisement
As RadarOnline.com exclusively reported on Monday morning, after the twins found out that Jon waived his right to regulate whether all eight of the Gosselin children can appear on TV in return for never having to pay child support again, they were deeply hurt and haven't talked to him in nine months.
"That is Jon and Kate's child support agreement. He's being so hypocritical acting like he only wants the best for his children by keeping them off TV, when really he basically sold them," the insider revealed.
"Mady and Cara don't talk to Jon and they haven't seen him in nine months. They're really hurt because they feel like he sold them. They don't want anything to do with him. The younger kids still see him because they don't realize yet what he's done. Jon's media blitz about 'fighting' to keep the kids off TV is complete bullish*t."
When Jenny McCarthy asks the girls what it was like to go through their parents' divorce, publicly, the twins are more vocal than they were on their awkward TODAY Show appearance on Friday.
Article continues below advertisement
"Honestly, it wasn't hard for us," Mady said.
"I think it was harder for you, definitely," she says, looking at her mom. "It didn't really affect me and we still saw both parents. And we were little, we were eight or nine, so…we knew what was going on but we didn't see the stuff…"
"I kept them sheltered," Kate chimed in.
"It's necessary and I think it drew the nine of us so much closer. There's really nothing off limits that we don't talk about. Clearly, there's hard times and strange discussions and probably not preferable things, but we're very open."
Walters then asks the girls if they ever resented their six younger siblings because of all the attention they got for being sextuplets.
"Mady you've been waiting your whole life for this question," Kate said.
"You ruined my dramatic silence," Mady joked, breaking the ice.
"They're annoying," she said. "And it's not just the group. It's every single one of them!"
Kate says the twins are average teenage girls — except they are not into Justin Bieber.
"If I'm gonna be 100 percent honest, I don't like Justin Bieber," Mady confided.
"But…One Direction," she says, nodding her head yes and revealing she likes Niall Horan the best.
"I don't really like One Direction," Cara said.
"I like Demi Lovato."
Check out a clip of the girls on The View below — and do you think Kate should be allowing them to make national live television appearances? Sound off in comments…