Kanye West Wants To Build Kardashian Kathedral, Source Says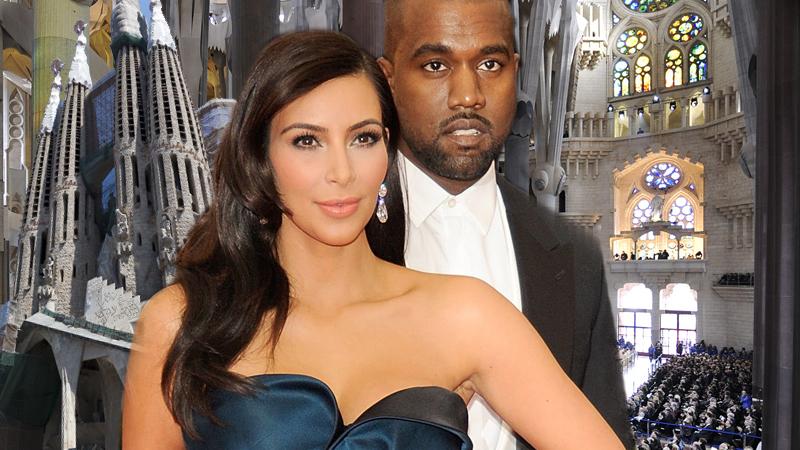 As the world has come to learn by now, nothing is good enough for Kanye West. But now it seems the rapper is taking his self-obsessed nature one step further!
The rapper allegedly has decided that the world's places of worship aren't good enough for his new family, so he is planning on building his new bride, Kim Kardashian, a cathedral of her own, The National ENQUIRER is reporting.
"They want somewhere that weddings, baptisms and family funerals can take place for years to come," a source tells The ENQUIRER. "But Kanye being Kanye, it's going to be ludicrously over the top!"
Article continues below advertisement
The "All of the Lights" rapper wants to build a church as dramatic as Barcelona's famed La Sagrada Familia, the source told the magazine. The landmark has been under construction since 1882.
"Kanye has visited the church several times, and it takes his breath away every time," the insider revealed. "He's always wanted something similar for his own family."
The rapper-designer reportedly is searching for a plot of land where he can begin construction as soon as possible. But, according to the source, his future church will be nothing if not extraordinary.
"Kanye sees it as a monument to him and Kim that will become a major landmark.
"He says everyone will want to see it, like the Hollywood sign or the Empire State Building"
The source said that West has set aside $5 million for the project. He also plans to turn start an online appeal so fans can donate to the fund.
The church he plans to build also will reportedly have a tribute to his late mother, Donda, who was deeply religious.
"He wants this curch to include a chapel as a tribute to his mom, along with a stained glass window featuring him, Kim and their daughter, North," the source revealed.