Julia Roberts Doesn't Address Sister's Death In TODAY Chat; Says She 'Wouldn't Survive' As Up-And-Coming Actress In Times Of 'Nasty' Social Media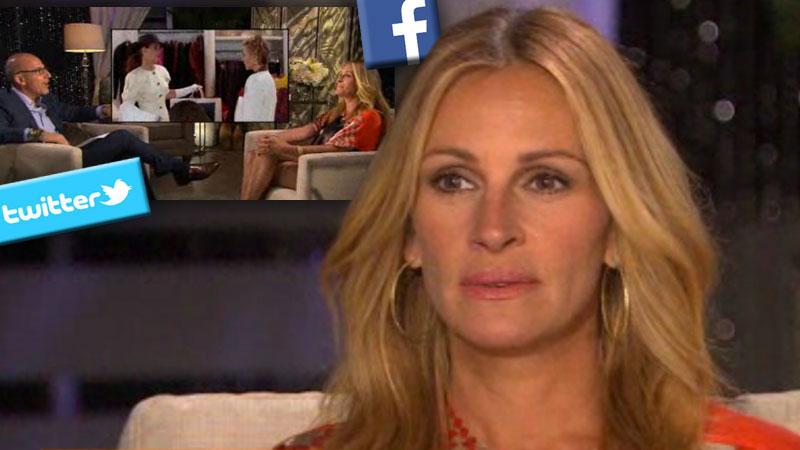 The Pretty Woman thinks social media is ugly.
Julia Roberts, appearing on the TODAY show Friday for a one-on-one interview with Matt Lauer, didn't make any statements about her half-sister's suicide six months ago, but did make eye-popping remarks regarding social media, saying she "didn't think she'd survive" in show business if she was just breaking in the modern day and age of Facebook, Twitter and Instagram.
Article continues below advertisement
"It's just too nasty — it's the sport of ugliness," said Roberts, who broke through with roles in late 1980s films such as Mystic Pizza and Steel Magnolias before her rocket ride to superstardom in 1990's Pretty Woman.
"I'd pull out of it — I wouldn't have the stomach for it," the actress, 46, told Lauer.
In the segment, Roberts showed her solid memory skills by effortlessly reciting lines from the romantic comedy, which cast her alongside Richard Gere as a soulful streetwalker courted by a businessman.
"You just grind it in there so hard so that it feels like your own thoughts," Roberts told Lauer.
In the chat, Roberts admitted her reluctance to leave her three kids (daughter Hazel and sons Finn and Henry) behind for a film shoot, saying that she was coaxed by both husband Daniel Moder and George Clooney to make last year's critically-acclaimed August: Osage County, which garnered her an Oscar nomination.
Article continues below advertisement
"Hazel refers to it as, 'The dark time.' As my husband says, I had to at some point have that experience and know what it was like. And I was just lucky, that on the other side of that experience, was this dream job."
In April, the Dying Young star opened up about her "heartbreak" over Motes' Feb. 9 death in an interview with WSJ magazine, saying, "It's hour-by-hour some days, but you just keep looking ahead.
"You don't want anything bad to happen to anyone, but there are so many tragic, painful, inexplicable things in the world. But any situation of challenge and despair, we must find a way, as a family."
Roberts appeared to promote the DVD release of her film The Normal Heart, which comes out Aug. 26.
If anyone you know, is struggling with thoughts of suicide, please immediately seek help. You can speak with a skilled, trained counselor at a national Suicide Prevention Lifeline crisis center in your area, anytime 24/7 — call 1-800-273-TALK (8255).