Exclusive
Not Just A Reality Star! Jonathan Cheban Dishes On New Lifestyle Website Launch & Filming With The Kardashians In An Exclusive Interview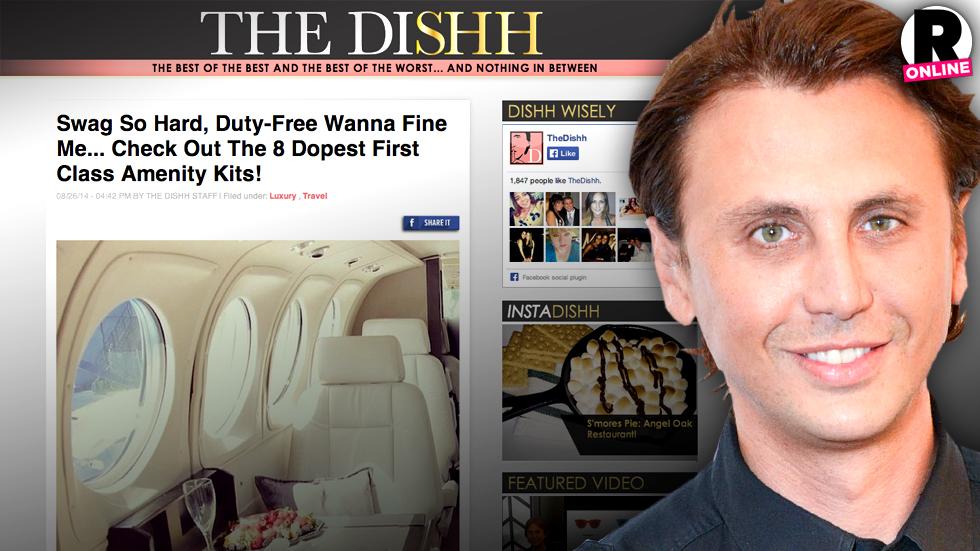 You've seen Jonathan Cheban hit exclusive hotspots around the world on Keeping Up With The Kardashians, but what's Kim Kardashian's BFF up to when the cameras aren't rolling? Cheban exclusively opened up to RadarOnline.com about making a name for himself in the digital world with his new luxury lifestyle website, The Dishh — and how Kardashian has inspired his growing empire.
Cheban's new site, TheDishh.com, is "an extension of my Instagram!" the reality star told RadarOnline.com. "Everybody loves my food, loves my places to go, and loves my fun stories and fun posts. I thought it was time to make it into a full website where people could come and get the coolest stories."
Article continues below advertisement
Flaunting the tagline "The Best Of The Best And The Best Of The Worst … And Nothing In Between," the site covers everything from the best-kept-secret spots in locations like New York and Monaco, to over-the-top items like golden toilet paper and diamond eyelashes.
Already hitting half a million readers in only one week, Cheban plans to add more features to give his readers the ultimate lifestyle experience.
"We're definitely going to write about nightlife and DJs as well, and start doing a lot of interviews with people," he said. "I want people to know about it because it's so fun … There's such fun stuff out there that everyday people are missing."
But The Dishh isn't the only project the self-proclaimed "Kanye West of food" is working on. Cheban recently opened the Miami-based Sushi Couture.
"We brought a style of sushi that was unaffordable," the foodie said. "That's why it's called couture sushi, like designer sushi. We made it more affordable so the masses will be able to try this kind of sushi."
Article continues below advertisement
Cheban will also be spearheading Burger Bandit, a hamburger franchise 15 years in the making that is set to open in Lyndbrook, Long Island by the end of September.
Although Cheban compares the franchise to Shake Shack and Five Guys, the hamburger size and original menu items like his "legendary" toasted marshmallow milkshake is sure to set this franchise apart from competitors.
"I hate big burgers, but I hate sliders so these are called bandits. It's between a slider and a burger and it's a size right in between," he said. "It's a whole new category of a size so people don't have to have those huge burgers and feel like slobs."
The former PR pro considers his business role model to be none other than the branding queen herself.
"I'm just impressed by Kim everyday... I love that she shows the naysayers wrong every time and she hits them with something new and just keeps breaking barriers," he said. "You just keep going and going and doing different projects and that's what I do… I just think she's a real inspiration."
Cheban also dished on what it's like travelling and hanging out with the reality TV queen.
Article continues below advertisement
"I love going anywhere with Kim!" Cheban gushed. "We just travelled to Cannes recently together and it's amazing. The baby is incredible."
Despite all of his ongoing and upcoming projects, don't expect Cheban to kiss the reality TV world goodbye just yet. He continues to make appearances alongside the Kardashian family, and will even be a guest on Kourtney and Khloe Take The Hamptons.
"I was just filming last week with them and it's always so fun," Cheban said. "People don't even understand how fun they all are. It's just a pleasure."
Cheban stayed mum when asked for a sneak peek of the upcoming spin off, but he did tell RadarOnline.com where the crew would be making an appearance. Let's just say we're hoping the Kardashian crew can take selfies and fist pump at the same time!
"We did film in Seaside Heights," he spilled. "That's all I can tell you. You can imagine that comedy!"