'He's So Not Her Type': Kim Kardashian Confronts Partying Khloé On Her 'Double Life' With French Montana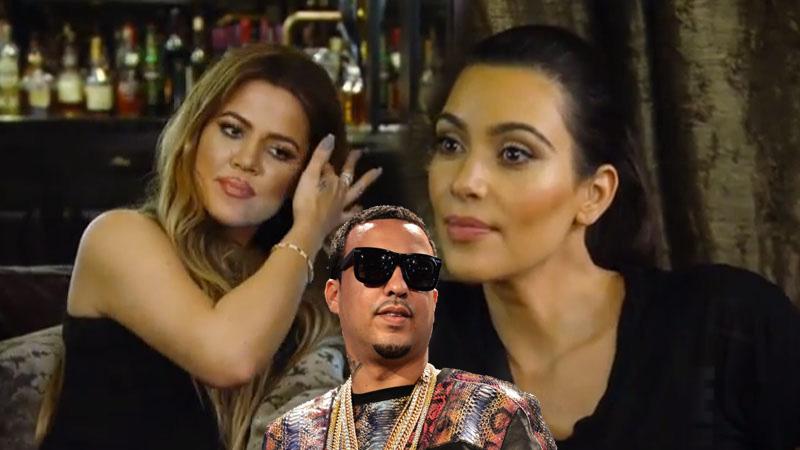 Article continues below advertisement
"He's just so not like her type -- I thought she literally only liked black guys — this is the first non-black guy she's ever been with," Kim smiled about Montana, who is from Morocco.
Later, Kim and Kourtney tried to interrogate Khloé, who is divorcing troubled basketball player Lamar Odom, about her love life and new party posse of friends.
But Khloé told the cameras she wouldn't talk to her sisters about it because even she was confused: "I like to hold some things private until I know what's happening in my own life."
As RadarOnline.com readers know, Kim has mentioned Khloé's party girl ways, and on Sunday night's KUWTK episode, Kourtney chimed in. She told Khloé she knew her divorcing sister was "gallivanting around" all the time.
"I'm just a girl who likes to go out on the weekends," Khloé shrugged to Kourtney.
Later, Kim asked Khloé, "Why are you lying to me about this supposed boyfriend? You live a double life. Who are your friends?"
Article continues below advertisement
Watch the video on RadarOnline.com:
Khloé retorted that leading a double life was what she did before, when married to Odom and "constantly hiding what someone else was really doing."
Later, Kim and her pal Jonathan Cheban staked out the parking lot of a party Khloé and Montana were attending, and were shocked when they saw Odom was also trying to enter the club.
"What is he going to do?" Kim fretted.
Khloé arrived in her Range Rover and rolled down her window, revealing that Montana was in her passenger seat -- and told Kim she'd already spotted Odom.
"This is really f*cked up," Khloé said of her ex showing up.
Although Khloé and Montana didn't want to humiliate Odom by not letting him in, the club management barred the athlete because they didn't want any drama.
Inside the club, Kim had a conversation with Montana and mingled with Khloé's new party pals as Khloé downed champagne.
Article continues below advertisement
"They are so cute together," Kim said, showing she finally approved of her sister's rapper boyfriend.
Montana sighed to Khloé and Kim about Odom, "I would never do that…show up to another man's party."
Also on the episode, Kris Jenner came under fire, on a professional level, from Khloé and Kim.
Khloé was upset when she guest hosted for Chelsea Handler and her mom didn't show up for the taping.
"My mom has been overwhelmed," with responsibilities, Khloé told the cameras, then sniffed that Kris was trying to get sister Kourtney a book deal while she hadn't gotten ten percent of what SHE wanted.
Khloé also told her friend Malika Haqq, "She doesn't make me a priority whatsoever. I'm going to kill her."
Later, Khloé fixed a Mother's Day meal for Kris, but it was marred when Khloé got information about a New Zealand radio interview she was supposed to do.
One of the questions the radio interviewers emailed to Khloé read, "What do you think you know about love and if you were to be married again, would you just elope?"
Article continues below advertisement
The star moaned that there weren't supposed to be any personal questions: "I'll talk but anything but that!"
Kris said there were to be no relationship questions whatsoever and then pointed out, "I'm not PR."
"You authorized it!" Khloé shouted.
According to Khloé, Kris failed to protect her: "It's your job as my manager!"
"I'm going to get someone new to run my sh*t," Khloé threatened her mom.
"Happy f*cking Mother's day," Khloé said as stepdad Bruce Jenner walked into the family gathering.
Kris told Kim privately that she always delivered for Khloé, "but it's still not good enough."
Later, Khloé apologized to her mother over lunch – while Kris stressed to Khloé that she was always looking out for her.
Meanwhile, Kris tried to butt into Kim's wedding plans with baby daddy Kanye West.
As the world knows, Kim and West married in May, but KUWTK viewers went back in time on Sunday night and saw just how hard Kim fought to keep Kris contained.
Article continues below advertisement
When Kim was looking over her wedding location book, Kris came in and tried to advise her. Kim brushed her off, saying West wanted input.
Kris whined, "You've never included me."
When Kris asked if Kim wanted her to help, she replied, "Not really."
Although her mom agreed to stay out of it, later, Kim learned Kris had approached the wedding planner behind her back.
"She's a pathological liar," Kim sighed to her assistant about her mother.
Kim confronted Kris, saying, "You have your signature style, and Kanye and I really, really, really want this wedding to be just about me and him."
The reality TV beauty said in confessional, "My mom has to learn she can't go against mine and Kanye's wishes.
"We have everything planned a certain away and she just needs to butt out and go with the flow."
After Kim said she was leaving mom's house and moving in with Kourtney, Kourtney warned Kim that their mother was considering not going to the wedding!
So Kim mended fences with Kris, saying she wanted her at the wedding.
"We just want it to be our taste," Kim stressed. "I'm not going to shut you out."
Finally, Kris said she'd try to back off and allow Kim and Kanye to plan their special day.