Exclusive
Deion Sanders' Divorce Drama Turns Nasty -- Judge Slaps Lien On His Texas Home For Not Paying Legal Fees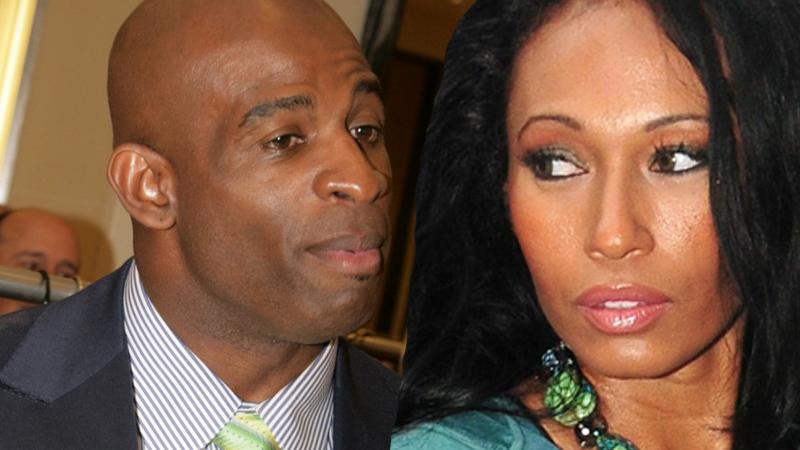 Former football star Deion Sanders has fumbled a court order to pay ex-wife Pilar Sanders' legal fees stemming from their nasty divorce last year — and it could cost him his home. RadarOnline.com has uncovered documents showing the NFL Network analyst is refusing to cough up $275,000 owed to his ex-wife's lawyer, Larry Friedman.
Now the attorney, who claims 46-year-old Sanders has not paid a single cent of the debt, has filed legal papers in Collin County, Texas, slapping a lien on Sander's extravagant Prosper, Texas mansion.
Article continues below advertisement
If Sanders still refuses to pay up, officials could sell off the property to settle the astronomical debt.
As RadarOnline.com reported, the home had been the scene of some volatile fights as the couple's 14-year marriage unraveled.
After one particularly vicious fight in 2012, the former Dallas Cowboy was cited for misdemeanor simple assault, and Pilar was arrested for misdemeanor family violence.
Sanders told Good Morning America, "When you have an allegation that I've hit you, that I've touched you, that I've assaulted you? That's straight-up ignorant . . . I can't be alleged the guy that's lost his mind. That's not who I am or what I am. I'm opening up schools. I'm doing many things for the community. I have endorsements."
Sanders called the arrangement "a very volatile situation," but refused to leave.
"The home is in my name and my name only," he said. "It's a wonderful haven for the kids. They've been raised here. That's why I choose to stay in the home."