Exclusive
Insider: Feud Between Deion Sanders' Wife & Daughter Has Been Brewing For Years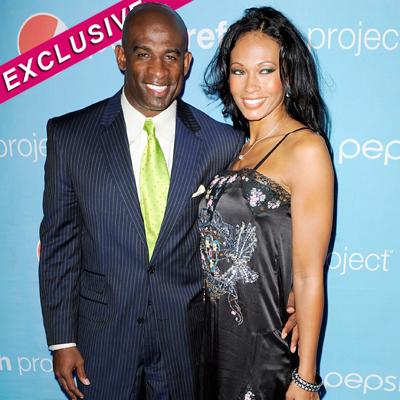 Three years ago, Deion Sanders appeared on Celebrity Family Feud; now he's got a big one of his own to deal with.
Things are getting nasty in the 44-year-old A-list athlete's divorce from wife Pilar: Deiondra, his 19-year-old daughter from his first marriage, has injected herself into the situation, painting her step-mother as fame-hungry, unfaithful and dishonest in a series of rage-fueled tweets on Wednesday.
Article continues below advertisement
In her diatribe, Deiondra claims Pilar lied about not knowing the divorce was coming; has been unfaithful to her father; mean to her step-children; and is more concerned with fame than her marriage or family.
Among Deiondra's tweets:
"#HowYoTopPriorityBeen YO MARRIAGE AND YO KIDS when u flying out of town to see other n*ggas...... Yeah We Know"
"all u had to do was be a supportive wife. ONLY THING U EVER CARED ABOUT DOING WITH MY DAD IS REALITY SHOWS, ALL STAR AND SUPPER BOWL...."
"she just need to stop playing the victim, when she really the problem."
Noteworthy is that Deiondra said her father had nothing to do with the tirade, always takes the high road, and even apologized to him ahead of time for the online meltdown.
Insiders close to Deiondra exclusively tell us the bad blood has been building for awhile.
"Deiondra knows all about the young guys that Pilar has been cheating with ... she knows her stepmother cheats, but was waiting for her dad to come to his senses and leave her," our source said. "She didn't want to tell her dad what his wife was doing, she just hoped he would see it."
Article continues below advertisement
Deion and Pilar, married since 1999, have three children, Shilo, Shedeur and Shelomi; the NFL Hall of Famer has two older children, Deiondra and Deion Jr., from his first marriage.
"Pilar treats the older kids from Deion's first marriage very differently than her own, she won't let them come home and stay unless their father is there," the insider told us, noting Deion's older kids "never liked Pilar because she was his mistress for years while their parents were married."
Our insider told us Deiondre takes issue with Pilar's hunger for the limelight.
"Pilar wants to be famous, and it's just not good enough to be Deion Sanders' wife," the insider said. "She wants to be a singer and model, and that is what she is focused on. Often, the younger kids don't eat dinner because she's out on a school night."
The insider said tension between Pilar and Deiondre exploded during Deion's induction into the Hall of Fame last summer in a spat over seating arrangements, as Deiondre said Pilar barked at her, "Don't you f***ing start with me!"