Exclusive
Deion Sanders: I Did Not Hit My Wife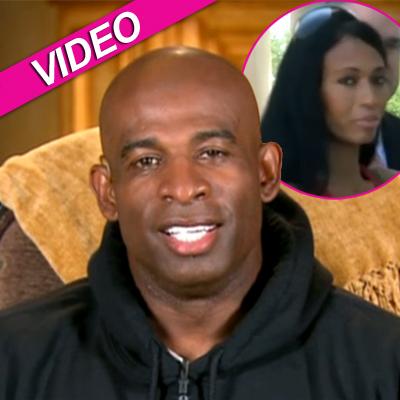 Deion Sanders is denying accusations he assaulted his estranged wife Pilar, who he's sharing their Prosper, Texas mansion with as their ugly divorce proceedings play out.
Sanders told Good Morning America Wednesday, "When you have an allegation that I've hit you, that I've touched you, that I've assaulted you? That's straight-up ignorant … I can't be alleged the guy that's lost his mind. That's not who I am or what I am. I'm opening up schools. I'm doing many things for the community. I have endorsements."
Article continues below advertisement
The former Dallas Cowboy was cited for misdemeanor simple assault last month, and Pilar was arrested for misdemeanor family violence, as the ex-couple shares the house in a scenario eerily reminiscent of the black comedy The War Of The Roses.
Deion calls the arrangement he calls "a very volatile situation," but refuses to leave.
"The home is in my name and my name only," he said. "It's a wonderful haven for the kids. They've been raised here. That's why I choose to stay in the home."
Deion justified tweeting an image of he and his sons, ages 10 and 12, filling out police reports in the incident.
"My son came and said, 'Daddy, mommy's called the ambulance, she's getting to the ambulance, nothing is wrong with her.' I said, 'Oh my god, that's the last thing that I want to see is the first thing the public hear is that I've abused my wife,'" Sanders said. "So sporadically, and quickly, we said, you know, we got to really tell our side of the story first and get it out there and that's where it came from."
Article continues below advertisement
Deion and Pilar, married since 1999, have three children, Shilo, Shedeur and Shelomi; Deion has two older children, Deiondra and Deion Jr., from his first marriage.
Pilar has been ordered to stay away from their home for 60 days.
Watch the video on RadarOnline.com
"I pray to God that they don't allow her back in the home because it's not a safe environment for me or as well as the kids," Sanders said. "But I can assure you one thing, she was never touched and thank God I have two witnesses that happen to be my children that saw the whole incident."