Former NFL Star Deion Sanders Cited For Assault, As Wife Released From Jail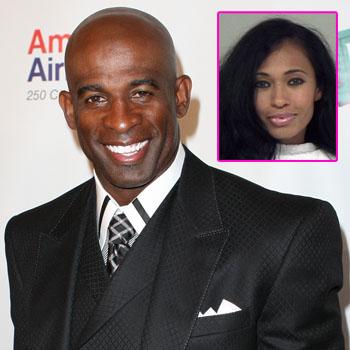 In a marriage drama that is playing out like the plot of War Of The Roses, former NFL star Deion Sanders was cited on Tuesday night for misdemeanor simple assault, just one day after his estranged wife was arrested for misdemeanor family violence.
The latest chapter came after police in Prosper, Texas, decided that further investigation into the domestic violence claims stemming from an incident on Monday justified charges being filed against the former Dallas Cowboys player, although he wasn't arrested like Pilar Sanders had been the night before, reported ABCNews.com.
Article continues below advertisement
The drama began on Monday night with a bizarre tweet from Deion claiming, "Pray for me and my kids now! They just witnessed their mother and a friend jump me in my room. She's going to jail n I'm pressing charges!," along with a photo (which was later removed) of himself with two of his sons, ages 10 and 12, filling out police reports.
As RadarOnline.com previously reported, things were already getting nasty between the couple last December, but back then it was Sanders' daughter, Deiondra, who was airing the family's dirty laundry on Twitter and lambasting her step-mother for only caring about fame and money.
In the latest incident, Pilar was charged with misdemeanor assault and held overnight in the Collin County Jail with bond set at $264. She was released Tuesday and ordered to stay away from their mansion for 60 days.
As has become typical in the breakdown of the couple's 13-year marriage, she did not hold her tongue when talking to reporters outside the jail following her release.
"I understand that I have very little chance at beating a Hall of Fame, two-sport man that everyone seems to love and adore," said Pilar. "I'm a full-time mom, 100 percent for my children. And I just haven't been given a fair shake."
Article continues below advertisement
Sanders, who has been working as an analyst for the NFL Network since retiring after becoming an icon during his five years with the Cowboys, filed for divorce in December but instead of moving out of the 10-bedroom, 29,000-square-foot home in Prosper, he opted to simply live in different areas of the huge house than his wife.
The domestic drama has gotten increasingly antagonistic over recent months, with Pilar accusing Deion of cheating on her with entertainment producer Tracey Edmonds. In February, she filed a suit against her husband and his aunt, Laura Jones, in which she claimed the aunt attacked her in their home while Sanders watched.