Exclusive
Troubled Former 'RHOBH' Star Dana Wilkey Granted Court Permission To Travel Across The Country For ANOTHER Legal Battle!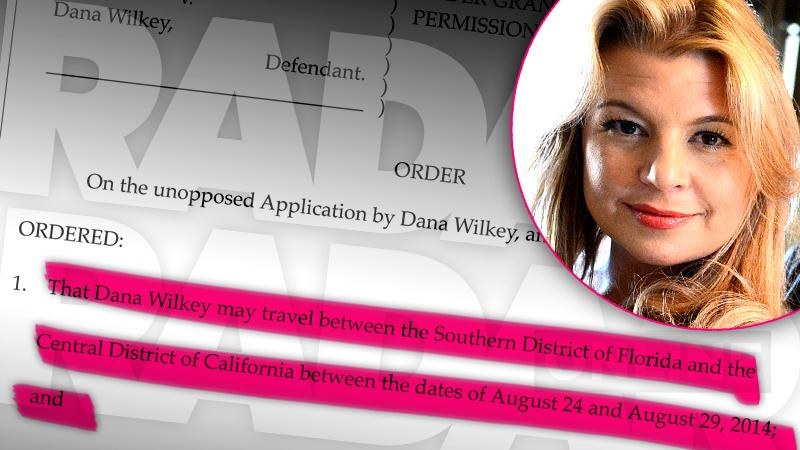 Former Real Housewives of Beverly Hills star Dana Wilkey was just indicted on fraud charges— but she has to attend to other legal battles across the country.
Lawyers pleaded with the United States District Court for permission for the now east coast-based reality star to travel between southern Florida and central California from August 25 to 29 so she can fight her ex-fiancé, John Flynn, in a Los Angeles civil trial.
Article continues below advertisement
"In order to pursue her case for money damages, and to comply with the Order of the state court, Ms. Wilkey's personal presence in the City of Los Angeles . . . is necessary," Wilkey's attorneys wrote in August 12 documents.
Fortunately for Taylor Armstrong's party planner pal, who infamously flaunted her $25,000 sunglasses on her former Bravo series, the court approved the request.
"On the unopposed application by Dana Wilkey, and good cause appearing, it is ordered…that Dana Wilkey may travel between the Southern District of Florida and the Central District of California," U.S. court papers state.
The single mom of 5-year-old son John Cayden and two associates were arrested on June 18 and indicted with "conspiracy to commit wire fraud, wire fraud and aiding and abetting, and making false statements to government agents," an FBI press release stated.
If convicted, Wilkey faces up to 20 years in prison for each wire and conspiracy count.
Armstrong seemed to predict Wilkey's troubled future in a 2013 episode of their show.
After the cocktail-swigging guest star boozily bragged "I drink a lot and I f*ck a lot" during a drinks date, Armstrong blogged that her friend was "in a bad place."
"I could see clearly there was so much pain hiding behind her words," she wrote in March 2013. "Her actions were speaking louder."