Boozy Trainwreck Dana Wilkey Makes Hilarious Return To RHOBH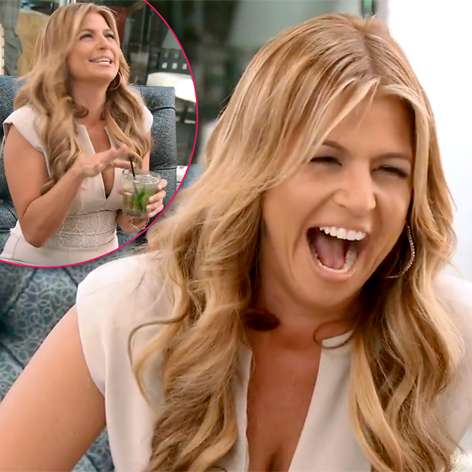 Wow! And we thought Taylor Armstrong and Kim Richards could act loopy.
Dana Wilkey, the social climbing party planner whose not quite a 'Real Housewife' (more like a 'friend of the Housewives'), made a hilarious 80 proof return to The Real Housewives of Beverly Hills Monday night in an alcohol-fueled, cringe-worthy scene with pal Taylor.
Listen! 'RHOP' star Wendy Osefo breaks down the "most intense fight in the show's history" in under 2 minutes.
Article continues below advertisement
Wilkey - who unintentionally became the butt of many jokes last season for her constant bragging ('My sunglasses cost $25,000!) - launched into a profanity-laced tirade about sex, her love of drinking - and of course, her nemesis Brandi Glanville.
The brash socialite - who endured a nasty split with her former fiance, John Flynn, who allegedly cheated on her - asked Taylor if she was dating ( she said no) and then made it clear that she had moved on, saying: "I might be the only person in our group getting laid." Wilkey, with cocktail in hand, then sloppily added: "I drink a lot, and I'm okay with it. And I f*ck a lot, and I'm okay with it."
"I know why Dana's drinking. I've been there. I want to give Dana some advice, but she's just too out of it at this point," Taylor says in an interview.
During the course of their chat, Wilkey also sets her sites on Brandi. (You could almost hear LeAnn Rimes cheering while watching the show!)
"As bad as it sounds, and you know I cannot stand Brandi, she was right," Dana said, referring to her boyfriend cheating on her.
Article continues below advertisement
"Are you friends with Brandi now, because I hate the b*tch. I really want to actually be like 'I want to puke when I see you, and how dare you be the freaking low life that you are?'" Dana added.
"The only reason Brandi even knows any of us, because believe me, she's not on par with our group, is Adrienne. So what the hell is that about?" Dana said, apparently working under her illusion that she's actually one of the Housewives.
"I was talking to my life coach the other day and she was just saying after all that you've been through, you really need to find people that are going to care for you that don't have an ulterior motive," Taylor said.
"Yeah, but these women do have ulterior motives, and you better have your guard up. They really love themselves, all of these women. I'm not sure they have enough room in all of their love for themselves to love you," Dana responded.
The Real Housewives of Beverly Hills airs at 8/7c Monday nights on Bravo.