Taylor Armstrong: Dana Wilkey's In A Bad Place, Battling Pain With The Bottle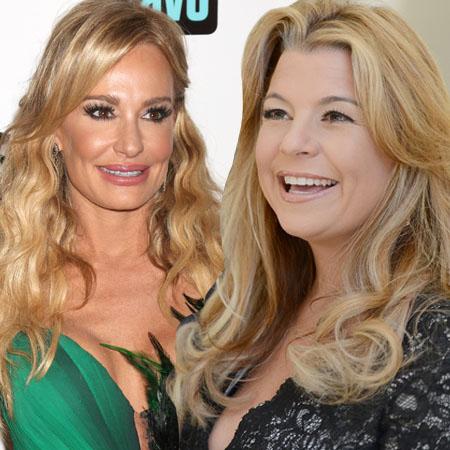 Taylor Armstrong worries aloud for her pal Dana Wilkey in a new Bravo blog, admitting she can see her party-planning pal is "in a bad place" after their recent powwow on Monday's episode of The Real Housewives Of Beverly Hills.
Listen! 'RHOP' star Wendy Osefo breaks down the "most intense fight in the show's history" in under 2 minutes.
As RadarOnline.com previously reported, Taylor's visit with the wanna-be Housewife made for some awkward TV, as a boozy Dana, still reeling from her split with fiance John Flynn, admitted she's been living life in the fast lane in the wake of the painful breakup.
Article continues below advertisement
"I might be the only person in our group getting laid," Wilkey boasted. "I drink a lot, and I'm okay with it. And I f**k a lot, and I'm okay with it."
In her blog, Taylor writes, "Dana, Dana, Dana.
"I got a call from her and she was distressed to say the least. She kept telling me how happy she was and how she was enjoying her new 'free' lifestyle but, I could see clearly there was so much pain hiding behind her words; her actions were speaking louder."
Taylor said she contemplated broaching the topic "but in that moment, it just wasn't right.
She then took a jab at castmate Kim Richards, ironically, for expressing concern about her drinking issues as a concerned peer with experience in the matter.
"Unlike Kim, I don't give advice on things I am not an expert in, and I have made enough mistakes to know … I'm no expert," Taylor wrote. "As for Dana telling me that my friends are not my friends, I disagree. She had a rough experience with my gal pals and harbors resentment.
"I know who my friends are, and I know who they are not."
The Real Housewives of Beverly Hills airs at 8/7c Monday nights on Bravo.