Watch The Video! Report: Footage Shows Chris Brown's 'Outrage That People Ruined' His VMAs Party Where Suge Knight Got Shot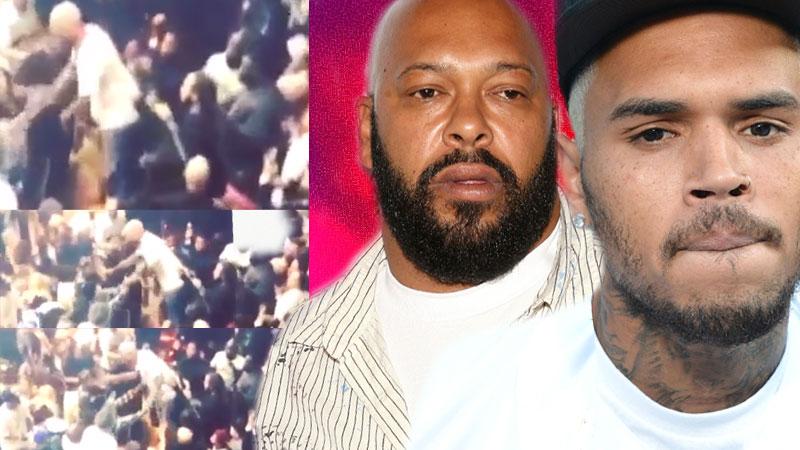 In a shocking video that purports to show Chris Brown in the moments when shots rang out at his pre-VMAs party, the singer appears to have a tantrum over the event getting ruined.
Rapper and VJ Milan Christopher Gordy posted video on his Instagram account which he claims shows what happened inside the 1OAK club in West Hollywood where the shooting took place early Sunday morning.
In the shocking incident, rap producer titan Suge Knight was reportedly hit twice and is now being treated at Cedars Sinai Medical Center in Los Angeles.
Article continues below advertisement
Gordy wrote that the video starts "as Suge knight gets shot .. Listen closely you can hear the two gun shots that…wounded him along with seeing Suge knight running for his life."
Rapper Gordy continued in his post, "And @chrisbrownofficial on the table in an outrage that people ruined his his pre @VMA event after he is clearly trying to stay drama free this go round."
Gordy, the nephew of Motown mogul Berry Gordy (and who was reportedly signed to a record deal by Kanye West), then ranted, "This is exactly why I don't go out in LA. This is the 3rd time I have seen some1 shot point blank range at so called LA premier night clubs it's a wrap @1oakla will never be there again!"
Eyewitnesses reportedly said Brown was the person being shot at during the melee but that's unconfirmed.