Exclusive
Settlement Collapse: Chris Brown To Court In Nightclub Brawl Case -- 'Don't Let Lawyers Quit Now!'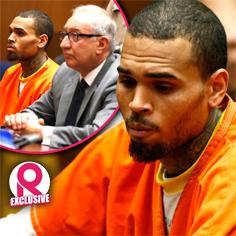 Chris Brown felt so close to settling multiple lawsuits stemming from his infamous New York nightclub fight — but now he fears it could all fall apart.
In June 2012, Brown, 24, was among eight injured in the bloody, bottle-throwing brawl between the singer, his nemesis, rapper Drake, 27, and their respective entourages at now-shuttered club W.I.P. Innocent bystanders including NBA star Tony Parker, who claims he suffered a scratched retina, soon sued the stars and the club's owners and shareholders.
Article continues below advertisement
Brown, who claims he reached a deal with all parties on February 18, just had a wrench thrown in the case, RadarOnline.com has learned: The lawyers representing W.I.P. have filed a motion to withdraw as the defendants' counselors because they claim they haven't been paid for their services.
The singer's lawyer filed an opposition to the motion, claiming that the settlement, "took months, included numerous sessions with the court, and required many hours of attorney negotiation," so the lawyers' "withdrawal at this critical moment in the settlement process would materially adversely impact the parties' ability to execute and finalize the Settlement Agreement," court documents explain.
The singer is requesting that the judge deny the lawyers' motion to withdraw so the settlement can commence as planned— and he can finally move on from the nearly two-year-old chaos.
Now, Brown can move on to his other legal woes: The star is currently serving jail time for probation violation after being tossed out of his latest rehab center .
Brown's probation stems from his 2009 conviction in the assault of then-girlfriend, Rihanna, 26.