Exclusive
Tori Spelling's Signature Forged On $60M Lawsuit Settlement, Claims Handwriting Expert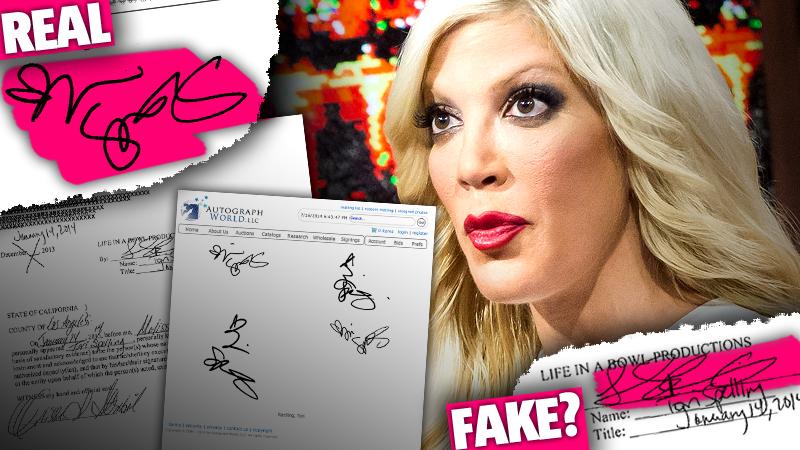 Article continues below advertisement
And now on top of it, there are claims that the signature appearing on a Jan. 14, 2014, settlement document purporting to be that of Spelling's, is in fact not her signature at all.
"The Settlement document signed 'Tori Spelling' is not her real signature," forensic handwriting examiner Frank Garo revealed.
"Enclosed are 4 known examples of her real signature. You can see the obvious discrepancies on the Settlement document when compared to real signatures, thus proving signature on Settlement document is bogus."
Below is the example included of the four known Spelling signatures versus the signature on the settlement document:
MORE ON:
Celebrity Justice
Dominic Friesen represents the plaintiffs in the case and exclusively tells RadarOnline.com a complaint was filed with the Secretary of State on July 18.
As RadarOnline.com previously reported, the $60 million lawsuit against McDermott and Spelling was dismissed when a settlement was reached, but the plaintiff's are not backing down claiming the idea for the reality show is rightfully theirs and it was stolen.
Article continues below advertisement
RadarOnline.com exclusively obtained email correspondence between the plaintiffs and Spelling and McDermott's team that they claim prove their idea was stolen.
The emails span between 2008 and 2010 and discuss the plaintiffs' idea for a show called Wedding Rescue with Spelling, which the couple's production company Life in a Bowl would later turn into 2011′s sTORIbook Weddings on Oxygen.
"I finally have a reply back from Dean on behalf of himself and Tori and they are interested in the project," one of the emails from their team to the plaintiff reads.
"Dean says that he is willing to call you but he is so jammed up with things at the moment in L.A., that he doesn't know when he will get back to you."
A rep for the plaintiffs told RadarOnline.com, "The emails from UTA, WOW, Canada Film, and Oxygen proving they entered into an implied of fact contract with us and that Tori and Dean had expressed interest in wanting to do Wedding Rescue."
A request for comment from Spelling's camp went unreturned.
Do you think Tori's signature was forged on the settlement document, and what implications do you think this could have for the lawsuit? Sound off in the comments below…