Smoke In The Cockpit, 335 Terrified Passengers 'Praying': Mystery Of United Airlines Plane Forced To Make Emergency Landing On Remote Midway Island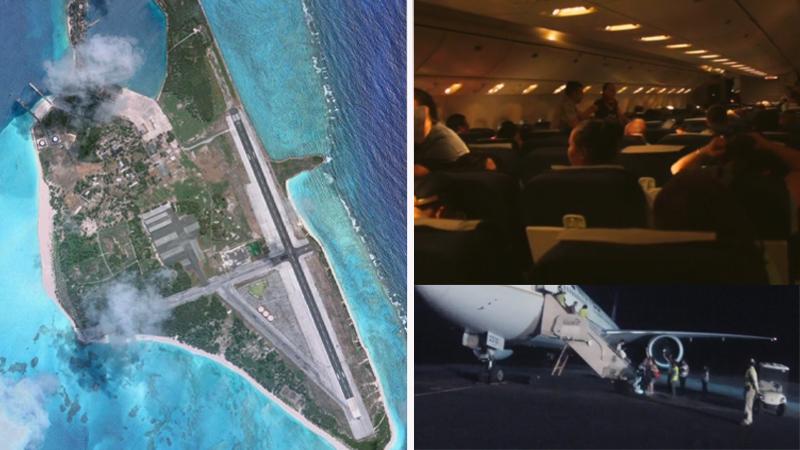 What happened on the plane that was forced to make an emergency landing on one of the most remote islands in the world?
That's what investigators must find out after United Airlines flight 201, a Boeing 777 carrying 335 people from Honolulu to Guam, landed on Midway Island after an electrical odor was reportedly detected in the cabin.
After the plane set down safely on Friday on tiny, 2.4 mile long Midway Island, the site of a famous World War II battle, news began leaking out about the terrifying ordeal.
Article continues below advertisement
The Craziest & Most Outrageous Celebrity Rumors — What's True, What's Not?
Passenger Karen von Merveldt-Guevara of Sedona, Arizona, told CNN passengers heard a shocking announcement: "The captain said there was smoke in the cockpit and the RadarOnline.com failed and other electronic systems were failing, so they had to land. I think they landed old-school. They did an amazing job to get there safely.
"At one point there was one drop of about 40 feet. After that turbulence, it got really silent. I thought everybody was praying, and we were coming in on the wings of faith. We were all praying," von Merveldt-Guevara said.
An airline spokeswoman said the passengers spent seven hours on Midway Island, where there are no hotels but stores were opened so they could get something to eat. A replacement aircraft later took everyone back to Hawaii on Friday.
United Airlines is investigating but wouldn't comment on further details.