Leah Remini Chats With Andy Cohen On Watch What Happens Live About Church, Rivals & J.Lo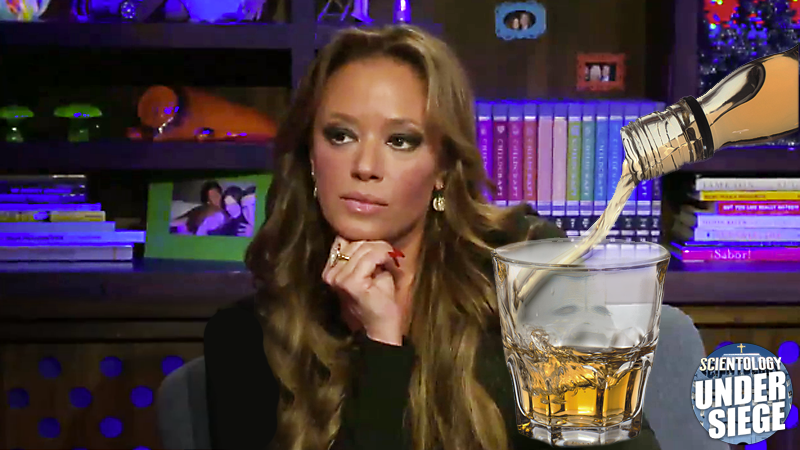 Leah Remini, appearing on Wednesday's edition of Watch What Happens Live, spoke on topics relating to her contentious relationships with her former castmates on The Talk, her best buddy J.Lo, and of course, her severed relationship with the Church of Scientology.
The King of Queens beauty, speaking in the Plead The Fifth segment, was asked about the best and worst aspects of leaving the Clearwater, Fla.-based church.
Article continues below advertisement
"The worst part about being a Scientologist was I couldn't drink every other day," she said, "and best part about leaving is that I could drink every other day!"
Remini's stormy departure from The Talk in 2011 was also was discussed via a clever lifeboat metaphor, as the actress was asked who she would save between Julie Chen and Sharon Osbourne. After long rumination on the topic, implying she wasn't a fan of either, she pleaded the fifth.
Watch the video on RadarOnline.com:
Remini, 44, said she'd be interested if she was offered a position on The View.
"I would consider any job — maybe not in porn — because I would consider it because I love to work," she said. "I would consider anything because I love the business I'm in, I love to make people laugh and if that were an opportunity for me, I'd surely entertain it."
Andy Cohen also asked Remini about her pal Jennifer Lopez, and the A-lister's purported romance with Maksim Chmerkovskiy.
"They are not an item — they are friends," she said.
Watch What Happens Live airs Sunday thru Thursday at 11/10c.