Exclusive
It's War! PETA Slams 'Instrusive' & 'Dangerous' Kim Kardashian Over Dolphins Instagram Pic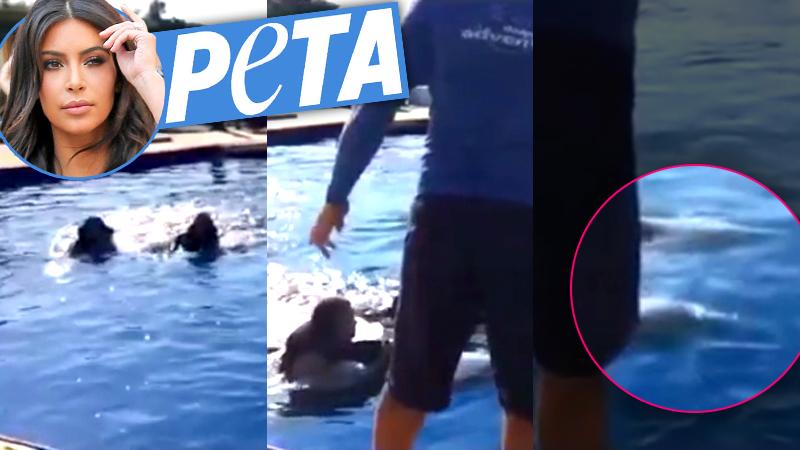 Kim Kardashian is "intrusive," "dangerous," and just plain harmful to animals, according to PETA. After the Keeping Up with the Kardashians star posted a video of herself riding captive dolphins on social media, the animal rights organization spoke out to RadarOnline.com with a blistering rebuke of her actions.
"Double dolphin ride with @kristennoelgipson Thank you Vallarta Adventures for teaching us so much!" Kardashian posted on Instagram recently. "Can't wait to show my daughter the pics of her swimming with dolphins & kissing a sea lion when she gets older! #ThanksForTheMemories #Mexico"
Article continues below advertisement
But PETA Senior Vice President Lisa Lange told RadarOnline.com exclusively that the scene was not as carefree as Kardashian would suggest.
"Kim is free to leave the pool, but for the dolphins, it's a lifetime sentence," Lange said.
According to the animal rights group , there are many problems with the public swimming with dolphins held in captivity.
"Touch tanks and 'swim-with' programs allow the public to pet, kiss, or even 'ride' dolphins. Such programs invade the animals' already diminished worlds and are intrusive, dangerous, and stressful for the animals as well as for human participants," she explained.
"Animals in 'petting pools' can become injured and anxious as a result of constant poking and prodding, and exposure to bacteria that they are not immune to can make them ill. The dolphins also often express their frustration through aggression," PETA states on their website.
Kanye West's baby mama is no stranger to being criticized for her seemingly animal-unfriendly choices, like sporting python boots, and she and her husband have already won the title of PETA's most hated couple for their fur-loving ways.
Her mom, Kris Jenner, also came under fire in Mexico for swimming with a giant sea lion at pal Joe Francis' estate — where Kardashian was staying during her own vacation.
Sound off in the comment section below: Do you think Kardashian deserves to be criticized for swimming with the dolphins?