Exclusive
PETA Blasts Kris Jenner: 'A Sea Lion Is Not A Pool Toy!'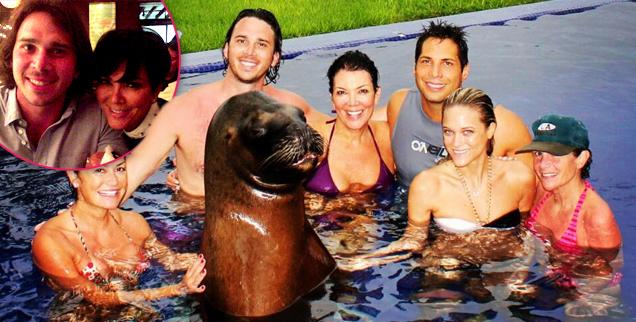 Sugar mama Kris Jenner has introduced boy toy Ben Flajnik to a whole new lifestyle since they started hanging out after her split from Bruce Jenner. The former star of The Bachelor has been spotted driving her Bentley, sitting by her side in VIP at concerts, and even swimming in a Mexican pool with the momager and a 600-lb. sea lion! But now, a rep for PETA tells RadarOnline.com exclusively that the couple's wet and wild date simply went too far.
Article continues below advertisement
"Sea lions are wild animals," a rep for the animal rights organization says. "They're not party props, playmates or pool toys! Animals forced to interact with visitors or perform tricks such as handstands are often trained in cruel ways, including beatings and food deprivation."
"Sea lions are sensitive living beings who belong in the wild, where they have the freedom to swim long distances, lounge in the sun, hunt for food, and raise their families," the statement continues. "They don't belong in any millionaire's backyard swimming pool!" The owner of the pool in question, Girls Gone Wild founder Joe Francis, has bragged about renting the 600-lb. animal, named Litibu, from a water park near his Punta Mita, Mexico, estate.
Jenner and Flajnik vacationed at the property in early September.