Over Already? Kim Kardashian Fed Up With Kontrolling Husband Kanye, Turns To Food For Komfort PLUS The Details Of Their Blowout Fight!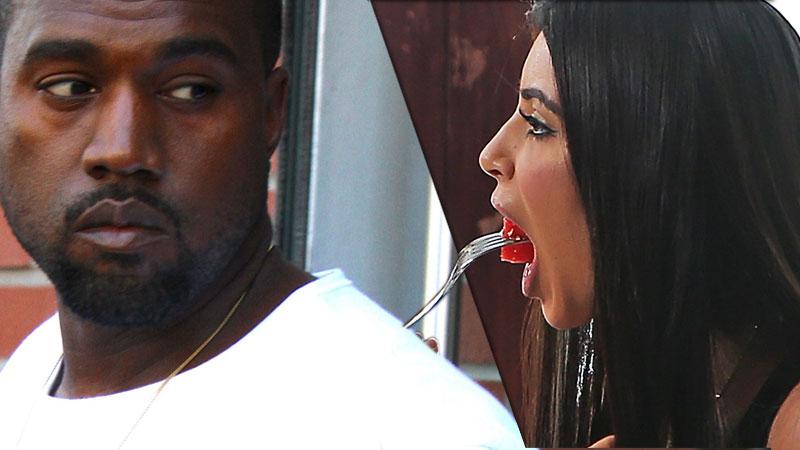 Kim Kardashian may have a third short-lived marriage on her hands.
According to Star, the newlywed, 33, is already "miserable" with her husband of 61 days, Kanye West.
"Right now, Kim's married life with Kanye has turned out to be more difficult than she imagined, and she doesn't know how to make the situation better," a family insider tells the magazine.
After a lackluster Ireland honeymoon, the mom of 1-year-old North has grown tired of West's controlling ways.
Article continues below advertisement
"Even when he's on the other side of the planet, he micromanages her every move: what she should wear that day; how many photos she should post on Instagram; what messages she should tweet to fans; which business opportunities she should consider," a source says.
Despite his constant control, West hasn't exactly been the most attentive husband: When he decided to ditch his wife and daughter North to work on his next album during a short hiatus from his tour, Kardashian was furious —and turned to food to cope.
"She'll eat a whole bowl of pasta and ice cream in the middle of the night when she can't sleep," an insider tells Star.
"Before the wedding, when she was happy and trying to lose weight for the occasion, Kim watched what she ate and worked out. But now she's stressed and doing the one thing she hates most…losing control of her diet."
According to In Touch, Kardashian's recent frustration with West's neglect led to an explosive fight.
"She told Kanye point-blank that being his wife was like being married to a monk," an insider tells the magazine, "and the fight got uglier from there. Kim railed on Kanye, saying that since they've been married, he's been away from her more than when he was single and out on tour."
West then said he needed his space, In Touch claims, and 'they've barely spoken since," the source adds.
Kardashian's previous marriage to Kris Humphries lasted a whopping 72 days before she filed for divorce in October 2011. Her first marriage to music producer Damon Thomas ended in 2004.