Exclusive
Whodunnit? Khloe Kardashian's Burglar Still On The Loose Four Months After Crime — Lamar Odom Blames Her Family!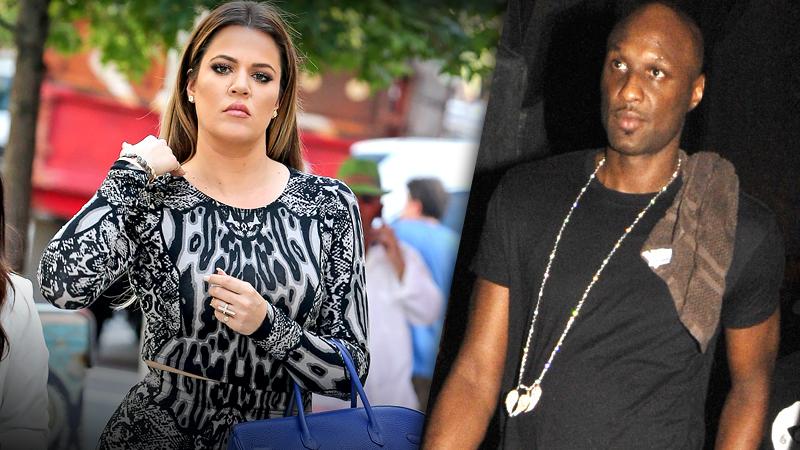 It's been four months since a thief snatched a slew of jewelry from the home Khloé Kardashian shared with estranged husband, Lamar Odom, and still no arrests have been made. Now, with police sources telling RadarOnline.com that the investigation is still open but "at a standstill," RadarOnline.com has exclusively learned that Odom believes someone from the Kardashian camp was responsible for the burglary — and that's why the famous family hasn't been more aggressive in tracking them down!
Article continues below advertisement
A source confirmed to RadarOnline.com that while the investigation into the March, 2014, burglary has not been closed, it "is at a standstill, with no new leads." And though initial reports targeted Odom and his friends, an insider claims that the former NBA star believes cops have been looking in the wrong direction.
"Lamar doesn't think anyone close to him, or anyone he knows could have stolen the jewelry," an insider told RadarOnline.com. "He believes that the theft was orchestrated by a Kardashian family friend, or even a family member."
"The locks had been changed to the house, and he had no access to the house at that time," the insider continued. "There is surveillance video and closed circuit security cameras all around their former residence. The thief knew the combination to Lamar's personal safe, and the location of it. It's also interesting that it was only Lamar's jewelry which was stolen, and not Khloé's."
The burglary occurred back in March, but was in the headlines again this summer thanks to a recent episode of Keeping Up With The Kardashians, which showed the reality star discovering that someone had stolen the majority of Odom's jewelry, valued at about $200,000, from the safe.
Article continues below advertisement
"I feel disgusted," Kardashian raged to her family members who were helping her move. "I want to know know who took my f*cking shit."
Appearing emotionally fragile, she said, "I'm the responsible one and I lose all his jewelry. I failed."
The KUWTK star explained eight pieces of jewelry were missing– and only a small group of people would have known what was worth stealing.
"I now have to question and look at the people that I love and that I let into my home differently," she sighed to the cameras. "It's a very weird feeling."
After the jewelry heist occurred last spring, media reports speculated it could have been orchestrated by Odom's alleged drug dealers, which the insider scoffs at.
"If one of Lamar's friends, assistant or alleged drug dealers were responsible for the theft, it would have been broadcast for the whole entire world," the insider explained. "Yet there hasn't been a peep from the cops or Khloé since it occurred, which is very odd. Lamar doesn't think Khloé was responsible for it, but there is a possibility she has an idea about who might have done it."
Article continues below advertisement
During happier times, Khloé's brother, Rob, lived with the couple at their mansion, and all members of the Kardashian family had keys to the house.
Online reports also recently revealed,​ Rob is allegedly smoking marijuana and sipping Sizzurp, the codeine-packed concoction that's been connected to music stars such as Justin Bieber and Lil' Wayne, among others.​
"Kris, Bruce, Kourtney and Kim all had keys....Lamar doesn't think it could be any of them, but there are a lot of people in and out of their own personal residences, so it's possible the key could have fallen into the wrong hands," the source revealed.