Exclusive
Court Documents Reveal Casey Anthony Was In Discussions For A Book Deal With NYC Publisher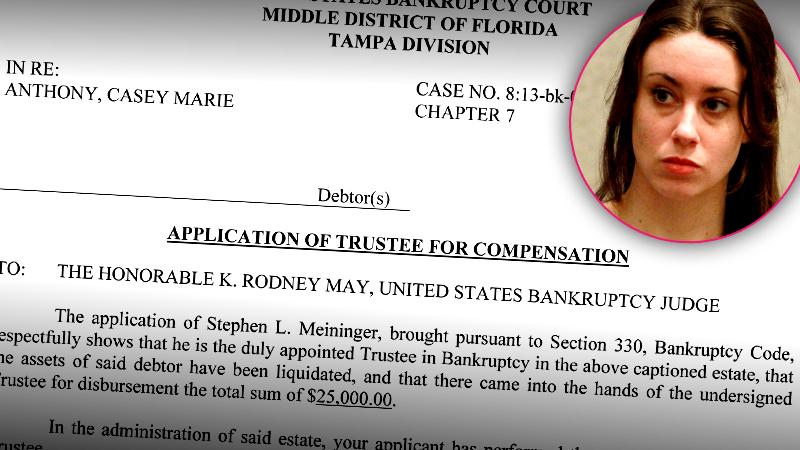 After walking away nearly debt free in Dec. when her bankruptcy was discharged, attorneys are now coming after Casey Anthony for nearly $30,000 in legal fees they are owed, and among the legal documents obtained exclusively by RadarOnline.com it's revealed the 'Tot Mom' nearly made a book deal with St. Martin's Publishing.
In the claim filed by Watkins Law Firm with the Tampa Division of Bankruptcy Court in Florida on July 8, a detailed log of the counsel's hourly services rendered to Anthony, 28, shows much time devoted to conference calls with the New York City publishing firm regarding the "sale of rights" for Anthony's story.
Article continues below advertisement
But although the calls to St. Martin's stop, the negotiations for a book deal did not — as Anthony's legal team logged calls to various people all the way through May of that year.
As RadarOnline.com exclusively reported in 2012, Anthony had kept a journal ever since her 2-year-old daughter, Caylee, disappeared and was later found dead with hopes to turn the contents into a best seller book.
"Casey feels this is the only way that she can get her story out and she feels that the public wants to hear from her," a source said at the time.
Article continues below advertisement
PHOTOS: Sick And Sadistic, The World's Most Evil Serial Killers
"The big publishing houses fear the backlash from the public and aren't lining up to sign Casey. However, she isn't concerned about it and Casey feels that she will be able to find a publisher."
The attorney logs also reveal that after filing a Revised Motion to turn over her computer on May 16, 2013, her lawyers had a conference call regarding the sale of her computer just four days later.
"There was no draft of a story on the computer," the document from her attorney reads.
PHOTOS: Serial Killers In A Skirt — 30 Cold Blooded Murderers Who Are Women
All in all, Watkins Law Firm is asking for $29,680 for the 74.2 hours (at $400/hour!) of service rendered to Anthony.
"This case was novel in that the Debtor Anthony had been acquitted of the charges of killing her child in an extremely high profile trial. There were numerous emails and telephone calls from parties claiming to be interested in the case," the paperwork reads.
"There was also the attendant publicity and numerous phone calls from members of the media. In terms of the difficulty of questions, the issue of exactly what the Bankruptcy Estate may have as a property right in the commercialization of the Debtor's story was paramount. This was the main issue in the case."