Exclusive
Two Civil Defamation Suits Against Casey Anthony Moving Forward To Trial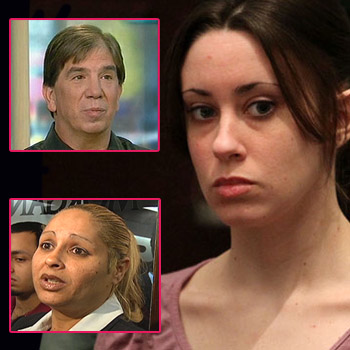 According to documents filed in the Middle District of Florida court on Jan. 14, hearings were held for both Zenaida Gonzalez v. Anthony and Roy Kronk v. Anthony — both of which were ruled to move forward in April and Sept. respectively.
Gonzalez is suing Anthony for defamation after her daughter, Caylee, went missing and she told the tale that her nanny Zenaida Gonzalez had disappeared with her, but there was no such nanny and Gonzalez claims the 'Tot Mom' ruined her life by tarnishing her name.
Article continues below advertisement
Kronk is the man who found Caylee's remains in 2008 and sued Anthony for defamation after he was implicated to an extent by her defense during her first-degree murder trail, which she was subsequently acquitted in.
Anthony, 27, has 21 days to respond and a motion to enter a Summary Judgement on the Gonzalez case is due by March 21, 2014 and Aug. 22, 2014 in the Kronk case.
The request on behalf of Anthony to dismiss Kronk's complaint was denied in the Jan. 14 paperwork.