Exclusive
Protecting Whitney's Legacy — New Owner Of Houston's Home Swears He Won't Open The Property To Fans, Gawkers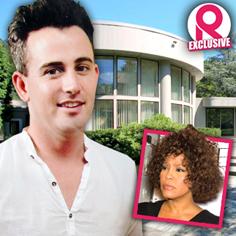 Whitney Houston fans may be waiting to catch an up close and personal glimpse of their idol's famous abode the next time they're near Mendham, New Jersey. But they're just going to have to admire the property from afar. That's because the new owner of her famous mansion worked directly with the family to ensure the singer's property wouldn't fall into the wrong hands, RadarOnline.com has learned exclusively.
Article continues below advertisement
"I had been trying to buy the property for a number of years," Dr. Matthew Krauthamer, a 33 year-old emergency room physician, told RadarOnline.com.
The mansion, located about an hour outside New York City, had been on and off the market since 2009, until it was sold to an investment company in February. And Krauthamer was able to purchase only after first being vetted by the Houston family.
"It was about finding a good fit for the property," Krauthamer said.
"Her family has been in contact with me. I don't want to make money off of who she was," he added. "She was kind and generous and she took care of those who she loved."
"I've had some communication with the family and they have been kind throughout the whole process," he added. "I wanted to put an end to their concerns and fears, that I am not an opportunist and I don't want to disgrace her honor.
Houston bought the unique home for more than $2 million in 1987, which was the site of her 1992 wedding to Bobby Brown. More than two decades later, Krauthamer bought the five-acre, 13,000 square foot pad for $1.5 million.
Article continues below advertisement
And the new owner is not quite the superfan he's been made out to be, he says.
"I am a fan of Whitney's music like so many people, but I'm not the over-the-top weird fan," he laughed.
"It doesn't take a rocket scientist to know it's a good deal."
Now that the purchase has garnered so many unexpected headlines, he's also gotten his fair share of unwanted attention.
Among the outlandish requests, Krauthamer said that even in the last week, people have asked him if they can even record in Houston's home studio.
"People have been contacting me left and right to also buy the property from me. Some have offered three times as much for it," he added.
But he's not surprised.
During her years in the home, Houston did a lot of upgrades, including adding an expensive security system, bi-level pool house, tennis court, second level to the mansion, front gate and she even spent $1 million on landscaping.
But the young doctor has no plans to make the home accessible to the public.
PHOTOS: 30 Celebrities Linked To Violent Deaths
"One hundred percent, I am moving into the home in the next month," he said. "I do not want to exploit Whitney."
And he assured the legendary songstress's family of his good intentions.
"I was not going to have any secondary gain from buying the property or exploit her honor," said Krauthamer, adding Houston's family is welcome any time.
He said, "This is still their house!"