Exclusive
No More Talking: V Stiviano Backs Out Of CNN Interview After Producers Replace Anderson Cooper With Chris Cuomo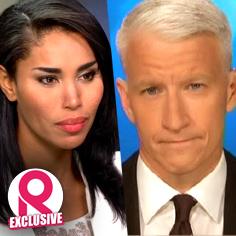 It's Anderson Cooper or bust! V Stiviano has backed out of her interview with CNN because the network canceled her sit-down with Cooper and attempted to reschedule with New Day co-host Chris Cuomo, RadarOnline.com is exclusively reporting.
Disgraced former Los Angeles Clippers owner Donald Sterling's alleged mistress— who, as Radar exclusively reported, was beaten and attacked with racial slurs by two white men in New York City on June 1— was expecting to speak with Cooper in the Big Apple on June 2.
Article continues below advertisement
Even though Stiviano had suffered mild injuries in the attack, "she had planned on going forward with the interview with Anderson the next day," an insider tells Radar. "Anderson had previously met with V and Donald Sterling several weeks ago when he flew out to Los Angeles. Her camp had a relationship with Anderson."
But just hours before the scheduled sit-down, producers notified Stiviano that Cooper was unavailable and Cuomo would be conducting the interview.
"After talking with Chris on the phone, V decided not to do the interview," the source reveals. "It wasn't because she didn't like Chris, she just doesn't know or trust him the way she does with Anderson."
"If Chris wants to fly out to Los Angeles and do an interview with V, she would be willing to do it," the source adds. "But for now, she is just going to lay low."
Stiviano is expected to make a full recovery from her attack, though "one side of her face is extremely red and she is obviously very scared," her attorney, Mac Nehorary, told Radar Sunday night.
She filed a police report on Monday, and a suspected assailant is now in talks with authorities, the New York Police Department has confirmed.
V Stiviano first gained national attention when she allegedly recorded Sterling's infamous racist rants, which lead to his ban from the NBA.