Show Me The Money! UTA Sues Poppy Montgomery For Breach Of Contract, Seeks Compensation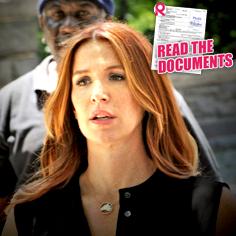 In her show Unforgettable, Poppy Montgomery has the ability to remember everything. But in real life, it's quite different.
RadarOnline.com has learned exclusively that UTA, Montgomery's talent agency, is suing the actress for breach of contract, alleging that the actress simply has stopped paying the agency its commission. The agency says in the documents that the Without a Trace alum used to pay her dues during the first season, but has since stopped. The show is now in its third season.
Article continues below advertisement
"Montgomery paid UTA a ten percent commission on monies earned from the Show through and including season one," the documents read. "Montgomery then suddenly stopped paying UTA its commissions."
So now the agency is suing her for the money that she allegedly owes from her show and for the cost of the lawsuit.
"Pursuant to the terms of the Talent Agency Agreement, UTA is entitled to payment of a ten percent commission on any and all monies which Montgomery receives in connection with seasons two and three of the Show.
"Accordingly, UTA now files this action to recover commissions received by Montgomery…," the documents read.
The suit was filed Monday, June 23.