Evan Rachel Wood Takes Money And Runs! Production Company Sues Actress For Breach Of Contract After She Allegedly Bails On Lead Role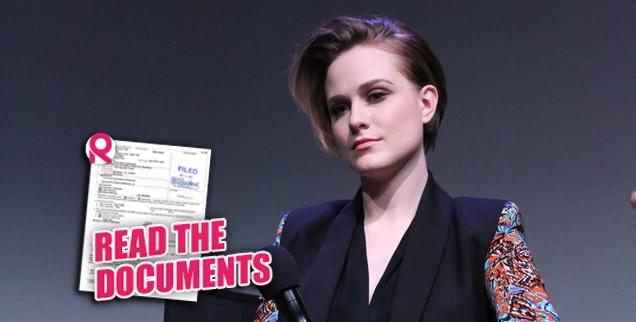 Marriage isn't the only thing Evan Rachel Wood is bailing on these days.
It turns out that the actress also allegedly ran out on a leading role in a movie, and RadarOnline.com can exclusively report that the production company is now suing her for monetary damages.
10 Things Films, the company behind 10 Things I Hate About Life, the movie in which Wood was set play the leading role, claims it paid Wood $300,000, but she allegedly took the money and ran.
Article continues below advertisement
After several attempts to reschedule production to meet Wood's timeframe, 10 Things Films alleges she just up and quit.
The complaint filed June 4 states, "…Defendants revealed that Wood had decided to simply refuse to return to production to complete her contractually required actor services under the Actor Agreement."
The suit also claims that Wood was "well-aware as to the severe and substantial adverse consequences and harm to Producer, including all investors in the Picture, and others involved in the production of the Picture, naturally and directly resulting from Wood's unyielding refusal to render Artist's remaining actor services."
The production company is suing for breach of written agreement and breach of the covenant of good faith and fair dealing. And it's going after the actress with all of its might, as the company is asking for no less than $30 million from her and As You Wish Productions, Inc., a "loan out company" that provides Wood's professional services.
10 Things Films' hefty request would cover attorneys' fees, litigation expenses, compensatory damages and "other relief as the Court deems just and proper."
Keep following Radar as we watch this unfold.