'American Idol' Lawsuit Claims Sony Music Screwed Kelly Clarkson, Carrie Underwood & Other Alum -- Seeking $10M In Damages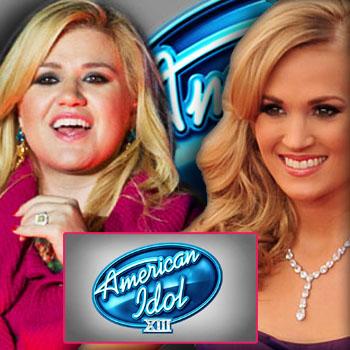 American Idol creator Simon Fuller's 19 Recordings — with artists like Kelly Clarkson, Carrie Underwood, Chris Daughtry and Clay Aiken — filed a lawsuit on Thursday against Sony Music seeking more than $10 million dollars in damages, claiming Sony has been intentionally stealing millions of dollars in royalties.
According to The Hollywood Reporter, after an audit of Sony's books was demanded by 19 Recordings (which is now controlled by Idol's owner, Core Media Group) and the artists that entered into deals because of their participation on the show, it was discovered that something looked off.
Article continues below advertisement
"We did not want to have to file this lawsuit, but Sony left us no choice, so this became necessary to protect our artists," 19 Entertainment Worldwide Head of Music Jason Morey told THR.
"Our complaint lays out the claims in great detail. Everything we have to say about the case is set forth in it."
The main claim in the lawsuit is that Sony has undercut some of Idol's most successful artists by underpaying them when it comes to royalties and pocketing the dollars for themselves.
"We have investigated this thoroughly and feel strongly about the claims," Richard Busch of King & Ballow said.
The issue is that Sony has lucrative streaming deals with Google, Apple and Spotify. Under the terms of their contracts, the artists receive 50 percent royalties for "transmission/broadcast" and just a fraction of that for a "sale/distribution."
Sony attributes all of the streaming to the three outlets above as "sales" instead of "broadcasts," therefore saving themselves a ton of money and scamming the artists out of their fair 50 percent royalty.
Article continues below advertisement
"Such exploitation can only be fairly described as 'transmissions' or 'broadcasts,' and, upon information and belief, are so described in the licenses or other agreements between Sony and the streaming services," the lawsuit says, reports THR.
"However, Sony has nevertheless accounted to 19 for all streaming income received at the lower Album rate as if the exploitation between the streaming service and the end user was described as a 'distribution' or 'sale' and, by so doing, Sony has breached the Recording Agreements."
The lawsuit alleges that Sony made other improper deductions for things like foreign income taxes, music videos, joint venture compilation albums and underreporting or not reporting synchronization master use in film and TV shows.
Artist sales of singles and albums on iTunes also presents issues when it comes to accounting royalties.
The lawsuit states that Sony takes advantage by choosing royalty routes that most benefit them, and it's unfair because there are no extra manufacturing, marketing or promotional costs associated with individual songs available for purchase separately.
The lawsuit will be disputed in a New York courtroom. Stay with RadarOnline.com for developments…