Maci Bookout's Money Crisis — 'Teen Mom' Owes A Whopping $80K To The IRS!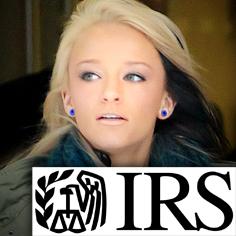 Teen Mom star Maci Bookout is in a sticky situation with the IRS, because she owes them nearly $80,000 in unpaid taxes from 2011.
The 22-year-old mother of one has a tax lien issued against her, obtained by In Touch, and Bookout has made no giant leaps to pay it off.
"She's in denial," a source told the magazine.
"She's been telling people that she's working on paying it back, but very little progress has been made."
Article continues below advertisement
According to the report, Bookout has been blowing her MTV cash on flights from her home state of Tenn. to Texas to visit her boyfriend of two years, Taylor McKinney.
"Luckily, Taylor is planning to move to Tennessee to live with Maci very soon, which will be good because it will take some of the financial load off of her," a second insider revealed.
"She needs to find a way to pay back this money. She's gotten herself into a lot of trouble."
Bookout's appearances as a cast member on Teen Mom were paid out as an independent contractor which means she didn't have taxes directly deducted at the time and was responsible for filing her own — which she clearly didn't, and now owes a total of $78,308.63.
Bookout, mother to 5-year-old Bentley, is now unemployed and makes money off advertisement deals on Twitter.