Exclusive
UCSB Mass Shooter Elliot Rodger's Dependence On Xanax Made Him 'More Withdrawn, Lonely, Isolated & Anxious' Says Insider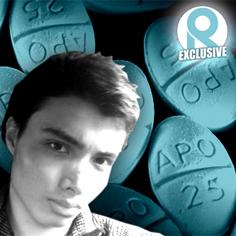 As law enforcement begins to piece together the days leading up to UCSB mass shooter Elliot Rodger's bloody rampage, disturbing details about the community college student's dependence on Xanax, which according to sources, made the son of Hunger Games' second unit director, Peter Rodger, more withdrawn, lonely, and anxious, RadarOnline.com is exclusively reporting.
Based on interviews with Elliot's parents, Peter and Li Chen, the Santa Barbara Sheriff's Department "is being told that he was likely addicted to Xanax . . . Peter and Li have been doing basic research on addiction to Xanax, and based on what they have read, they believe the tranquilizer made him more withdrawn, lonely, isolated, and anxious," a source told RadarOnline.com.
Article continues below advertisement
"It's their understanding that when Xanax is taken in large amounts, or more than the prescribed dosage, these are some of the side effects. Xanax isn't being blamed for causing Elliot to go on his rampage, but it probably wasn't the best decision to have someone like him on it."
RadarOnline.com broke the story: Elliot's parents have previously told law enforcement that their son had been taking Xanax in the days before the horrific murders, and feared he could have been abusing the anti-anxiety medication.
The Xanax had been prescribed to Elliot by a family doctor, according to law enforcement sources.
"Elliot had been taking Xanax for awhile, according to his parents … there were fears he might have been addicted to it, or taking more than was prescribed," a law enforcement source previously told RadarOnline.com.
"The Santa Barbara Sheriff's Department will be conducting formal interviews with Elliot's doctors, and will review his medical and prescription drug records.
Article continues below advertisement
"During Elliot's autopsy which was conducted by the coroner in Santa Barbara, blood samples were taken for the sole purposes of determining if there were any legal or illegal drugs in his system.
"Toxicology results are pending, and will take about four to six weeks for results. There is no way to determine at this time if Elliot had taken Xanax on the day of the killings, but the the toxicology results will most likely be able to ascertain if he was."
On May 23 Elliot killed six people and then himself in the college town of Isla Vista, Calif., adjacent to the University of California Santa Barbara campus.
Elliot refused to take to take psychiatric medication prescribed by a mental health professional because he looked up the side effects, and determined he didn't need it.
At the time of Elliot's killing spree, he hadn't seen a psychiatrist in over two years, and was being treated by a duo of psychologists in Los Angeles and Santa Barbara.