Breaking Another Heart? 'Teen Mom 2' Star Kailyn Lowry's Ex Jo Rivera Tells New Girlfriend During MTV Special, 'I Don't Know If I Want To Get Married Or Have Another Kid'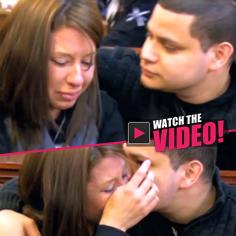 Article continues below advertisement
The conversation started with Torres breaking down and crying on Rivera's shoulder.
"You know that I always leave room for doubt for the future," Rivera told Vee.
Vee didn't like that statement.
"You make me feel like I'm not worthy to be with in the future," she said. "Just because you have a son don't mean that I don't want one in the future."
But Rivera felt like Torres misinterpreted what he said.
"No, that's not the case," he replied. "That's not what I'm saying."
Still, Torres wanted to make it known that Rivera made her feel that way.
"That's how you make me feel and I don't feel like I deserve that at times," she stated.
So Rivera tried to explain his point of view better.
"Okay, well I'm not going to sit here and say that I'm decided right now, I'm going to marry you and I'm going to have another kid with you, because I don't know what I want," he said. "I don't know if I want to get married or if I want to have another kid anytime soon."
Article continues below advertisement
And Rivera was aggravated that Torres kept asking him about getting married and having kids.
"Then it keeps coming up," he said. "I'm kind of getting urged to do this sooner or within a certain amount of time. So it's like… for me, I'm like, 'Leave it alone. Like no.' Like, 'No, no, no! Because I'm not ready.'"
Rivera already has one son — Isaac, 4 — from his former relationship with Teen Mom 2 star Lowry.
His struggles and hardships with being a teen dad were documented in the hit MTV series — and now, the catching up special that airs on June 8, will let fans see what he has been up to outside of what aired in season 5 of Teen Mom 2. Tune in to MTV Sunday at 8 ET/PT.
Get More: