'Teen Mom' Kailyn Reveals Eating Disorder -- Cruel Mother & Cyber Bullies Pushed Her To Dangerous Diet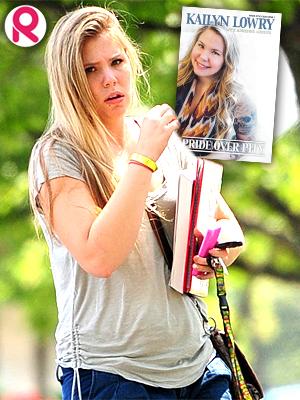 Article continues below advertisement
Chunky Monkey "was… my mom's nickname for me," Lowry writes. "Don't most body image issues start at home? Mine did."
After feeling ashamed of her 5' 8" height and thicker frame than many of her petite high school classmates, Lowry met a friend who suffered from anorexia and bulimia. "She encouraged me to start down the same path. We were a pair of anorexic teenagers who became caught up in an unhealthy trend," she explains in her brutally honest memoir. "I didn't want to weigh triple digits."
Fortunately, Lowry ensured she received enough calories and nutrition during her pregnancy with Isaac, now 4, with ex Jo Rivera, 21.
However, as Teen Mom 2 hit MTV in January 2011, the star became distraught when cyber bullies began taunting her online. "There were tons of hateful posts judging me on my appearance and these trolls managed to find endlessly creative and hurtful ways to call me ugly," she recalls. "I even had a Twitter page dedicated to me titled 'Hulk Kail.'"
Article continues below advertisement
She soon went back to her unhealthy habits. "I stopped eating or opted for minimal items," she reveals. "I'd chew a piece of gum that's only five calories. I'd drink water to fill up my stomach."
Not satisfied with the results, Lowry began a dangerously intense workout regimen. "I'd do a 45 minute session of home workout DVD Insanity and then not replenish my body with water or nutrients," she says. "Instead, I would make myself throw up. That's how desperately I wanted to be thin."
Eventually, the star learned to "take back control" of her body image, she insists. "With age and maturity, I've learned that only I have the power to make myself feed good," Lowry pens. "True beauty comes from within and being healthy is so much more important than the size you wear."
Lowry, now married to military airman Javi Marroquin, 21, and the mother of baby Lincoln, 5 months, also reveals other aspects of her painful past in the book: RadarOnline.com has exclusive excerpts of the MTV star's horrifying memories of rape, abortion, homelessness and medical scares.
For even more on Lowry's April 22 tell-all, keep checking RadarOnline.com.