What MTV Didn't Show: 'Teen Mom' Kailyn Lowry Reveals How She Hid Homelessness, Cheating & Medical Scares From Reality TV Cameras In New Tell-All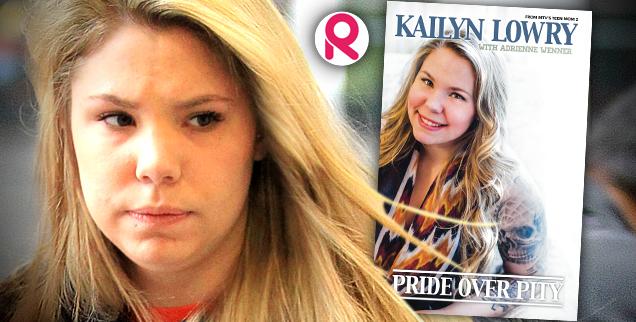 Teen Mom 2 star Kailyn Lowry may have exposed her motherhood troubles and marriage woes on her reality hit— but she didn't allow the MTV cameras to catch everything.
As RadarOnline.com exclusively reported, the married mother of Isaac, 4, and Lincoln, 5 months, reveals a painful past of abortion and rape in her upcoming memoir, Pride Over Pity, but she also confesses other heartbreaking experiences she felt too embarrassed to show fans and even MTV.
Article continues below advertisement
After her split from Isaac's father, Jo Rivera, Kailyn, now 22, says she was forced to move out of his family home and soon spent a terrifying stint in a local Pennsylvania homeless shelter.
"I arranged for Isaac to stay at Jo's, but I kept everyone in the dark as to where I was going," she writes. "Nobody knew what I was doing, not even MTV producers, and I hoped it would remain that way because I felt like utter shit."
Fortunately, Lowry's stay only lasted two nights: a local organization required only a brief residency in the shelter in order to qualify for their single mothers' housing program.
"Isaac needed a safe place to live with me," she says. "At that point, staying in a homeless shelter for two nights seemed like a small price to pay."
Lowry soon signed a lease for an apartment— and MTV captured her big move, not knowing the sad truth.
Article continues below advertisement
Another moment MTV didn't catch? When Lowry, then pregnant with Isaac and preparing to star on 16 & Pregnant, confronted boyfriend Rivera about his cheating.
After finding his Taco Bell coworker's name in texts, the expectant teen demanded the truth during a visit to the couple's obstetrician.
"Jo finally admitted that he was seeing someone behind my back," she recalls. "I was preparing to have a baby, and the father of my child was cheating on me. I stopped fighting back tears and let myself break down. I felt duped, cheated and humiliated. I was completely heartbroken."
There were other incidences of betrayal that the cameras missed: In her tell-all, Lowry also claims she caught a later boyfriend, Jordan Wenner, flirting with a Teen Mom 2 fan online!
Wenner, who Lowry says was developing a fan base from his time on the show, "was a little too friendly for my liking" with one female.
"One girl in particular was acting like she was making plans to move in with Jordan," Lowry pens. "After such a solid year together, I was disappointed that Jordan had become so caught up in the attention that the show had brought him. I didn't think he had any real intention of going through with this move, but at the time I couldn't help but leap to conclusions. The mistakes Jordan made weren't seen on television."
Article continues below advertisement
And while Teen Mom 2 fans know all about costar Leah Messer's medical crises with her now 4-year-old daughter Ali, Isaac's own scary health issues were never discussed onscreen.
Because her son was born nearly a month early, Isaac "was suffering from severe jaundice, causing his skin and the whites of his eyes to yellow," Lowry writes. "On top of the jaundice, the doctor was concerned that the soft spot on his head was very small. There was a possibility the had premature fusion of the skull. In other words, Isaac might end up mentally handicapped. I was scared to death."
Four months later, Isaac had a seizure while sitting on Lowry's lap.
"He went limp and his eyes rolled back," she recalls. "I immediately dialed 911. My little baby was very sick, and for a mother there is no greater fear."
Fortunately, Isaac is now healthy.
For more secrets from Lowry's shocking tell-all, keep reading RadarOnline.com.