Teen Mom Kailyn's Secret Pain: Lowry Reveals History Of Rapes & Abortion In Heartbreaking New Tell-All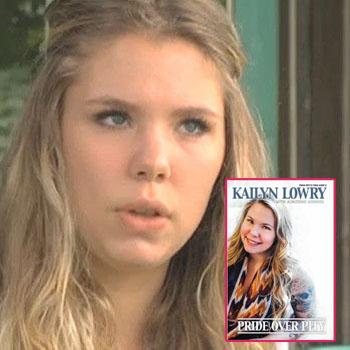 With an alcoholic mother, an absentee father and a pregnancy at just 17, Kailyn Lowry has undoubtedly had a tough life. But fans will be shocked by the private pain— including horrific sexual trauma— the lovable Teen Mom 2 star chronicles in her new tell-all, Pride Over Pity. Though the book hits stands April 22, only RadarOnline.com can exclusively reveal all the details.
Years before conceiving son Isaac with ex Jo Rivera at her junior prom, the Pennsylvania native confesses she lost her virginity to her first boyfriend in eighth grade— outside on the street. "The concrete sidewalk had no summer warmth," Lowry recalls in the memoir. "Suddenly, my pants and underwear were pulled down...Our movements and his touch were unromantic. When it was over, I ran home, blood trickling down my leg."
Article continues below advertisement
Lowry, now a 22-year-old mother of two, knows today she was far too immature for such a big milestone. "I was too young to understand that I wasn't ready— physically or emotionally— for sex," she writes. "I believed then that I had to have sex to keep up with my friends."
The young Lowry's sexual experiences only grew scarier: In ninth grade, she claims, a new boyfriend raped her during a night alone at his home. "Toby wouldn't take no for an answer," the reality star pens. "I didn't want to sleep with him, but he persisted. Denying him seemed fruitless. I believed Toby loved me, so I decided I could give him this one thing as long as he wore a condom."
Unfortunately, Toby ignored her one request, and Lowry took her "first pregnancy test at fifteen in a Walmart bathroom," she recalls. After discovering she was pregnant, the scared teen wanted to keep the baby— but her troubled mother Suzi refused to let her continue the pregnancy, she claims. "She was adamant that I would not be allowed to deliver this baby into the world, even though deep down that was what I wanted," Lowry writes.
Article continues below advertisement
On her sixteenth birthday, Lowry underwent the physically and emotionally traumatic abortion. "I swear they didn't just suck out my uterus," she explains. "It felt as though they had taken every fiber of my being...I felt a mother's grief."
After becoming pregnant again at 17, Lowry knew she could not endure another abortion. "The experience had been so horrific for me that I couldn't really bear to consider it as an option again," she writes. "Once was almost impossible to recover from, twice would mean falling into a deep depression and never bobbing up for air."
Though Lowry found true love after son Isaac's birth with a new man, Jordan, the couple soon split— and she endured another horrific rape. After a few platonic hang outs with a man named Caleb, Lowry claims one night he showed up at her door unannounced.
"He was plastered and insisted he needed to talk to me, so I let him in," she recalls. "But he had no interest in talking. He pulled me into the bedroom and slammed me onto the bed, taking my clothes off roughly...His strength was overpowering. I felt a tear and knew I was bleeding....It felt like I was dead."