On The Road To Recovery: 'Slenderman' Survivor Says Thank You Through Pictures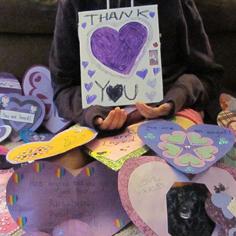 Not only has a 12-year-old girl miraculously survived the 'Slenderman' inspired attack where she was stabbed 19 times, she also took the time to thank everyone who sent her cards wishing her well and pledging financial donations over the past month.
PHOTOS: Serial Killers In A Skirt — 30 Cold Blooded Murderers Who Are Women
"Our family would like to thank everyone who has supported our daughter on her miraculous road to recovery," the family wrote in a statement. "Our little girl has received thousands of purple hearts from numerous countries and from most continents.
Article continues below advertisement
We simply cannot put into words how grateful we are for the prayers, packages and heartfelt messages. We are overwhelmed by the outpouring of love and support."
The family's statement included a picture of their little girl's hands holding a purple card with a giant heart that reads "Thank You."
"This is a courageous brave little girl who was stabbed 19 times," family spokesman Stephen Lyons told ABC News. "Her courage and fortitude has just been unbelievable. She has a positive disposition."