Secrets Of A Little Person Performer! Little Women LA Star Terra Jole Tells All: Pal Miley Cyrus Is 'A Great Dancer, But I Can Shake My Butt Better!' PLUS Watch Her New Music Video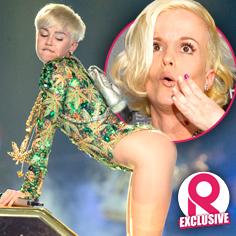 Little Women LA standout Terra Jole is not only a new reality star — she's a seasoned performer!
The 4'0" singer, dancer, and actress, 34, acted onscreen with Tara Reid, infamously imitated Britney Spears in a Las Vegas show, and even danced beside Miley Cyrus on the pop star's current Bangerz tour — and now she's sharing her wild celeb stories exclusively with RadarOnline.com.
"Everyone thinks Miley's nuts, but she's awesome," insists Jole, 34, who stars on Lifetime's new reality series about a group of female friends who happen to be little people. "She was very welcoming. She invited me to every show's after party."
Article continues below advertisement
"She's all that and a bag of chips when it comes to partying," Jole boasts. "One night in Vegas, we had a big dance party. Miley's a great dancer, but I can shake my butt better than her. I've got a lot of junk in my trunk!"
Before Jole left the tour to film her new TV series, Cyrus gifted her dancer with two tops.
"I was so excited. I was going to show my mom! But then I discovered that the first shirt was a crop top with two seashells covering the chest. Then I pulled out the other shirt, and it just said 'Son of a B*tch' on it. I was like 'Ummm, I don't think my mom will like that,'" Jole laughs.
While traveling with Cyrus, Jole, who has performed onstage as 'Mini Britney' since 2005, crossed paths with the real pop icon.
"Britney didn't recognize me at first, because my hair was short," Jole recalls. "So she said, 'Prove it!' I went into full-on choreography and sang 'Oops! . . . I Did it Again' and she was like 'Terra!'"
Now, nearly ten years after beginning her Britney gig, the impersonator is ready to perform as herself.
Article continues below advertisement
"My goal is to make a comedy pop album," says the singer, who says she's already recorded six tunes. "The songs are funny and catchy at the same time."
Now Jole is providing a preview for fans: She's releasing her high-energy music video "Booty B" exclusively with Radar.
"This video is my all time dream, and I'm so proud and honored I get to experience this," she gushes. "I don't care what anyone else thinks or what they say. I'm able to sing for a living and I'm proud of it. I'm truly happy with my career, my body, everything!"
Watch Jolie on Lifetime's Little Women: LA Tuesdays at 9 p.m. ET — and catch her new music video below!