Satanist Cannibal Killer Gregory Hale Emulated The Night Stalker – 'I Am Beyond Good And Evil'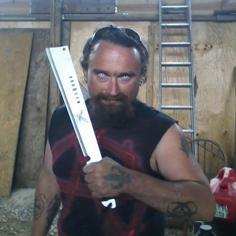 If imitation were the sincerest form of flattery, then Richard "Night Stalker" Ramirez would be extremely flattered if he were still alive today.
Gregory Scott Hale, 37, admitted to police that he picked up a mother of six and murdered, dismembered and ate parts of her body to emulate his role model – the 1980s sadistic California serial killer the Night Stalker.
Hale also told police that he took Marie Hyder, 36, to his parents' Tennessee home where he lived to do all of these things as part of a satanic ritual. Hale allegedly read Ramirez's "manifesto" obsessively, to the point where he followed it to a T.
Article continues below advertisement
Psychiatrist and serial killer expert Dr. Park Dietz, who interviewed Ramirez in prison, said, "Hale thought he, too, was a Night Stalker. He identified with Ramirez, looked up to him and idolized him."
Although Hale has no former run-ins with the law, Dr. Dietz believes that Hale likely staged "rehearsals" where he would stalk women "imagining how it would be to rape, kill or capture them."
Dr. Steven Egger, associate professor of criminology at the University of Houston in Clear Lake, Texas, said that if Hale hadn't been caught after his first murder, he probably would have gone on to murder others.
"Killers are motivated by power, dominance and having control over somebody else," Dr. Egger said. "They like to play God. Hale was not a skilled, practiced killer. I think he was just getting started."
However, not everything turned out as planned for Hale, as he was caught after he asked a neighbor to help him dispose of Hyder's body. He confessed to everything and even told them extremely gruesome details.
Article continues below advertisement
"Subject beheaded her and cut off her hands, placing her head and hands in a plastic bucket," the police report states. "He cut off her feet and other body parts, placing them in another bucket, and buried the victim's torso in a burn pile at the residence."
During his trial, Ramirez drew pentagram symbols on his hand and shouted, "Hail Satan!"
Ramirez often wrote about his dark thoughts and posted comments on social media, too. In his Facebook posts, Hale once wrote, "I hug the people I hate to I know how big to dig the hole in my backyard."
But Dr. Dietz believes Hale ultimately confessed because he wants to be remembered as a notorious criminal.
"Many serial killers admit to comparing their 'body count' to other serial killers and reading books on serial killers. Like anyone else, they have curiosity about people like them. They don't want to feel alone.
"They want to feel special, but not be the only one."