White Supremacist's Wife Pleads Guilty For Her Involvement In Murder Of Teenage Baby Sitter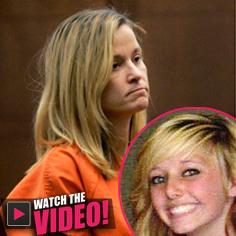 Article continues below advertisement
In March, her white supremacist husband, , was found guilty of Rasmussen's murder and was sentenced to up to life in prison.
During his trial, testimony revealed that Millerberg and his wife introduced the teen to a series of drugs, and the night of her death she had sex with him and was injected with methamphetamine and heroin. They found her unresponsive so they took her naked body, put clothes on her and dumped her body miles away from their home.
Police were led to her body after a fellow prisoner alerted the authorities to the whereabouts of the body.
The Weber County Attorney said Millerberg's plea deal was a "fair resolution."
"Without Dea coming clean, we wouldn't have been able to convict Eric," Dee Smith said. "She provided a lot of information and a lot of testimony that allowed us to solve this. So even though she shares in the responsibility of what happened, she also came forward and testified and did everything she could to make it right."
Millerberg is scheduled to be sentenced on August 21 and she faces $15,000 in fines and a maximum of up to 15 years in prison.
youtube