Exclusive
What If O.J. Didn't Do It? Serial Killer Renews Claims He Killed Simpson's Wife Nicole -- Read The Bombshell Prison Letter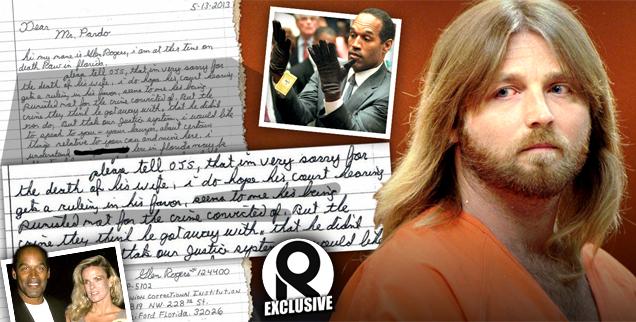 As the world marked the 20th anniversary of Nicole Brown Simpson and Ron Goldman's tragic murders last Friday, media commentators and spectators alike took the opportunity to blast O.J. Simpson yet again for his alleged connection to their killings — despite the fact that he was acquitted in court decades ago. Now, RadarOnline.com can exclusively reveal a never-before-seen document that could exonerate Simpson once and for all: Serial killer Glen Rogers has written Simpson's manager renewing his claims that he was actually the one who killed Nicole and Goldman!
Article continues below advertisement
Rogers, currently serving time on death row in Florida, first emerged as an alternate culprit in the 2012 Investigation Discovery documentary, My Brother The Serial Killer, when his own brother, Clay Rogers, claimed, "I'm absolutely certain that my brother Glen killed Nicole Simpson and Ron Goldman. I know my brother did it because I've seen proof that he was there."
Now, Simpson's manager Norman Pardo has shared a bombshell letter from Rogers with RadarOnline.com, in which the serial killer claims Simpson's life has been destroyed for a crime Rogers says "he didn't even do."
"There's more to the story than just the letter," Pardo tells RadarOnline.com exclusively. "We've been in communication for almost a year now. Rogers has no options. He's out of appeals and everything. He just doesn't wanna die with O.J. getting credit for what he says he did."
Rogers writes, "You won't have to take me at my word. A full taped statement in your case was made in 1995."
And according to Pardo, creator of the recent Simpson documentary O.J. Simpson: In His Own Words, "The L.A. Prosecutor and District Attorney have a file in which Rogers confessed, but they gave him a plea deal to get him out of the state... Because they were afraid he would mess up their O.J. thing. They arrested him after they arrested O.J. They couldn't go back and say O.J. didn't do it now!"
MORE ON:
Nicole Brown Simpson
Article continues below advertisement
Rogers, a handyman, met Nicole when he was working on a repair crew at her house in 1994. His brother Clay claimed he called him a few days before the killing bragging about his new well-off client and promising to take her down. Clay also maintains that Rogers took a gold angel pin from the home after Nicole's death and mailed it to his mother in Ohio.
And now, Pardo says he and Rogers are working together to pressure the authorities in L.A. to re-open Rogers' case file in the hopes of publicizing his alleged confession, and revisiting the Goldman family's $33.5 million civil judgment against Simpson.
"The letter gives me an open door to shut down their judgment against O.J.," Pardo insists. "We have attorneys working on shutting down the judgment the Goldmans have until this is resolved. We're trying to get the court to open up Roger's files."
Pardo claims that there is evidence beyond Rogers' alleged confession — namely, information he claims is proof placing Rogers at the murder scene.
"I've gone as far as to get his footprint on a piece of paper," Pardo tells RadarOnline.com. "What people don't realize is that the size 12 Bruno Mali that was supposedly used by the murderer was used on 19 different shoes, including work boots like Rogers, a painter, would have worn. I got the facts on that because I got the letter from Bruno Mali."
Article continues below advertisement
"That, combined with the letter, and the alleged taped confession" and "the fingerprints all over Nicole's house that they couldn't match with anybody" could exonerate Simpson once and for all, Pardo claims, insisting, "You can't get more blatant than what's going on!"
As for Rogers' motivation to come forward after all these years, Pardo says it's a bit of twisted pride — and guilt.
"He wants me to get O.J. to forgive him," Pardo says. "It ain't gonna happen. Look what he's done to O.J.'s life! Nothing Rogers says is gonna matter. O.J. told me, 'It doesn't matter what this guy says, I'm the killer in the eyes of the public, and that's the way it's gonna be."
At the time Rogers first made his claims, LAPD spokesman Commander Andrew Smith told CNN, "The LAPD is quite confident that we know who killed Nicole Brown Simpson and Ron Goldman. We have no reason to believe that Mr. Rogers was involved."
Smith did not respond to RadarOnline.com's request for comment.
Do you believe Rogers? Let us know in the comments!