Exclusive
O.J. Simpson's Kids 20 Years Later: 'They Will Always Love Their Dad,' Aunt Reveals -- Plus Why They 'Don't Talk About' Their Mom's Murder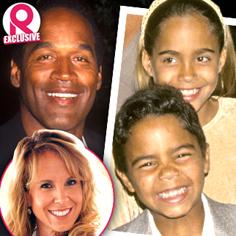 As the world prepares to mark the twentieth anniversary of Nicole Brown Simpson and Ron Goldman's brutal murder, Kato Kaelin, Kim Goldman, and others connected with the case have spoken out about how they've moved on — or failed to find closure — since the killings. But missing in the media circus surrounding the anniversary of the murders and subsequent O.J. Simpson trial has been any update from the littlest victims of the case and its aftermath: Simpson's children with Nicole, Justin and Sydney. Just five and eight at the time of the murders, both have since grown into adults and now, for the first time, their aunt Tanya Brown is speaking out about what they endured and how they've moved on.
Article continues below advertisement
"They're in their late 20s. They're professional. They've gone to college," Brown tells RadarOnline.com exclusively. "They're in relationships. They're happy. They're just like us. Quote unquote."
But it's taken a lot to get to that point. After the murders and Simpson's acquittal , Brown says, the family struggled to give the kids a sense of normalcy as they split custody between Simpson and the Brown family.
"After the trials were done, my mom and I were like Team Brown. We had a meeting point where we transported the kids and picked the kids up and dropped the kids off," Brown, author of a new self-help book/memoir, Finding Peace Amid the Chaos: My Escape from Depression and Suicide, says. "We were in constant contact with him because of the kids. … He will forever live on in Sydney and Justin and he is for the rest of his life attached to my family somehow."
Article continues below advertisement
Indeed, even though Brown believed he was guilty of killing her sister, she was forced to try to make nice with him for the sake of the children.
"I had to go and pick the kids up at the house where he lived, and I saw him," she recalls. "It was hard for me, but I did it. My mom gave me a pep talk, like, 'You're doing this for the kids.' I entered the home, packed their bags. I went into his home and I saw the furniture I used to sit on when Nicole was alive."
"I was so foggy, but I had to put on the face because this is their dad," she says. "They will always love their dad. I choose to respect that."
In fact, she claims that to this day they never discuss the murder or Simpson's part in it.
"It's the pink elephant in the room that I hope never shows up," Brown says. "I'm not a mom, and I don't know how I would address it. I'm sure the right words would come out."
But for now, she says, "We don't talk about it. I'm the aunt that when they come to visit, it's 'Let's go to a movie! Let's go shopping! Let's go to the beach!"
"They've probably talked about it on their own," she says. "But when they come to our house we have fun. We don't need to rehash everything."
Watch: O.J. Simpson's BFF says 'Mean' Schoolyard Bullies Tortured O.J.'s Simpson's Children