Exclusive
O.J. Simpson Slams Barbara Walters After Interview Snub: 'She's A Person Without Integrity!'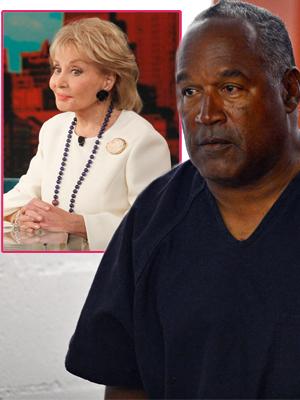 Once an NFL hero, now a convict, O.J. Simpson has seen his fortunes fall in the 20 years since his wife, Nicole Brown Simpson, and her friend Ron Goldman were found murdered. But despite his dismal standing in the eyes of the public, there's someone else who Simpson believes is utterly "without integrity" -- veteran journalist Barbara Walters! Simpson made the dig during an interview conducted before his 2008 conviction for kidnapping and armed robbery, but the remarks were never made public — until now!
Article continues below advertisement
Simpson's rant was released as part of a new documentary compiled by his manager, Norman Pardo, called O.J. Simpson: In His Own Words. In the clip, a copy of which has been obtained by Radar, he complains about his ongoing issues with Walters.
Sick And Sadistic, The World's Most Evil Serial Killers
"First week I was arrested after Nicole and Ron's murders Barbara Walters on 20/20 — investigative journalism! — gave a report that Friday, that they learned my Hertz contract was up," he said, "…and they weren't renewing. They said my NBC contract, was up and they weren't renewing, and they learned that I was payin $55,000 a month in child support and alimony."
"Then Hugh Downs turned to her and said, 'Well that might give a lot of pressure on any individual and make them do some crazy things,'" Simpson recalled. "In other words, they gave America a motive."
Angrily, Simpson continued, "The facts were, I had just signed two months earlier an extension and a raise with Hertz. I had just signed 5 months ealrier an extension and a raise with NBC, and I didn't pay any alimony. I bought out of my divorce. It couldn't have been more wrong! All they had to do was call Hertz or call NBC or call the Browns or call a lwayer. It was a complete fabricated lie."
Article continues below advertisement
"There was so many of those stories going around and this is Barbara Walters," he said. "I tracked her down from jail. You know what she told me? 'Oh well O.J. to be honest, it was the end of the show and they just put it ion the teleprompter and I read it without really checking it. It wasn't my story.'"
"I said, 'Barbara, you know everybody admires you. Its' your integrity on the line, not some unknown guy writing copy …" he insisted. "I admired her like I think a lot of Americans admire her, but I realized no, she's a person without integrity."
Their relationship only grew more strained years later when Simpson's friend Star Jones approached him about appearing on The View.
Simpson claimed, "I said, 'Come on, Star, I'm not the kind of guy your audience wants.' She said, 'No, Barbara wants you!'… I said, 'Look, I don't wanna go on the show.' But she said, 'Well, Barbara's in Europe and she's gonna call you.'"
"So I get a call from Barbara Walters in Europe and she convinces me to go on her show, to go on The View," he said. "So I fly to New York … I'm watching TV. I'm watching Barbara Walters telling America she's not gonna have me on her show because it would upset too many people.."
He said, "I hit the roof! You talked me into coming on this show. I told you that your audience wasn't the audience I want. You told me it didn't matter. And you're on TV grandstanding, saying you're not gonna have me on your show after you got me in New York. So no integrity!"
Whose side are you on? Let us know in the comments!