Exclusive
Family Ink! 'Mob Wives' Star Alicia DiMichele & Son Anthony Get Matching Tats — The Inside Story Of Their New Art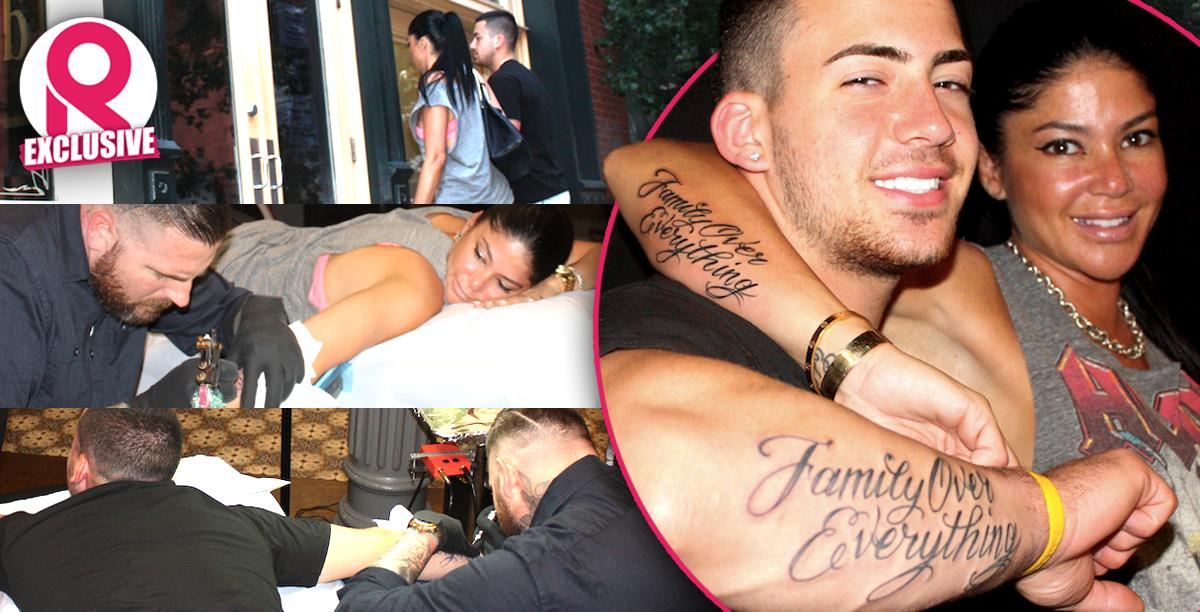 The past season of Mob Wives tracked the story of new cast member Alicia DiMichele Garofalo as she waited on sentencing for an embezzlement charge. Now that the season is over, DiMichele has reneged her guilty plea and is currently waiting on her next hearing. But between all the drama and heartache of the past year, RadarOnline.com has learned that DiMichele received a pleasant surprise from her oldest son, Anthony Fioravanti when he asked her to get a matching tattoo with him! Only Radar has the sweet story of their family ink.
Article continues below advertisement
"He's been thinking a lot about getting a tattoo, and he came to me and said: 'I want us to get matching ones,'" DiMichele told Radar. "I was taken aback by that."
While most 19-year-old guys don't want to be caught dead doing anything with their mothers, Fioravanti instead wanted to get a sentimental matching tattoo with his mother to mark their strength and perseverance.
"After Eddie and I were arrested and Anthony saw everything that I was going through, he used to leave me these notes everywhere," she said. "They would always say that I was doing a great job and not to give up and that he never realized how strong I was. That I always kept a smile on my face no matter what I was going through — And that I taught him how important family was."
Fioravanti would sign the notes with a special message. "He would always sign everything with 'Family Over Everything,'" DiMichele said. "He picked 'Family Over Everything' because he said he learned that from me. It really meant a lot."
So on June 23, DiMichele and her son headed into New York City to artist Luke Wessman's studio to get the phrase inked on their forearms.
"I felt that Anthony really thought about it and that it has meaning," DiMichele said. "I don't feel like it's something that he's going to regret later in life, and I actually think it's a beautiful memory."
Article continues below advertisement
Fioravanti agreed with his mother.
"With everything we've been through, I told her that I wanted to get matching tattoos with her," he told Radar. "I'm closer to her than anyone else, and something that she has instilled in me is 'Family Over Everything,' so that is why I picked this quote for us to get."
And creating that memory has helped Garofalo deal with the hard times as she waits on a new hearing to deal with the restitution in her case and the time to enter a new plea deal the hearing is scheduled for July.
"I reneged my plea, so I actually have to plea again," she explained. "So I'm spending all my time with my boys and my stores and just focusing on that and just being with the family."
"Through this whole process, Anthony just became my rock," she concluded.