Exclusive
New 'Mob Wives' Star Alicia DiMichele Garofalo Admits She's 'Very Nervous' About Being Jailed For Embezzlement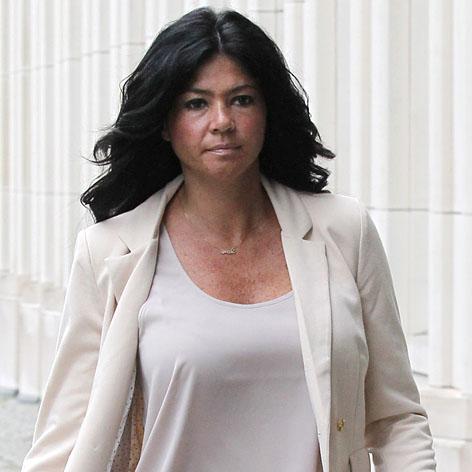 On the eve of a new season of Mob Wives, new cast member Alicia DiMichele Garofalo is awaiting sentencing on a charge of embezzlement.
Garofalo was arrested on charges of fraud and embezzlement related to a trucking company that she ran with her husband, Colombo family gangster Edward "The Tall Guy" Garofalo.
While she has already plead guilty to the embezzlement charge and her husband is already behind bars, RadarOnline.com has learned that her sentencing hearing originally scheduled for Nov. 25 has been postponed to Jan. 6.
Article continues below advertisement
"I've already plead guilty to embezzlement last year, so I'm actually just waiting for the judge to sentence me, so that's what's going to happen on that day," Garofalo told RadarOnline.com in an exclusive interview.
The Hottest Stars From Reality TV
Not surprisingly, Garofalo is worried about the outcome of the sentencing.
"Yes I am very nervous," she confessed. "But I'm a very positive person and I'm just thinking completely positive and I don't even let my mind go towards the negative side. I put everything in god's hands and I have faith and I'm hoping that it'll all work out for the best and that I'm not taken away from my children."
That said, even Garofalo admits that she's not sure how her sentencing will go.
"How it works, my guidelines are 0-6 months in jail, but the government will not oppose if she the judge decides to give me house arrest," Garofalo said. "But the reality is the judge could give me whatever she feels. If she feels I deserve two years in jail, she could give me that."
For a woman who claims to have "never even jay walked," she is frightened about the prospect that she might have to serve time in prison.
"Yes and I suffered some severe anxiety as a child, like my whole life, so the thought of that alone and even when I go on visits, it's really hard for me to comprehend," she admitted.
But the reality star knows that she will handle the judge's decision, whatever it might be, as best she can.
"I know if I have to serve time, I'll be fine," Garofalo said. "But I just still don't like to go there in my mind."