Exclusive
Mob Wives Disgusted By 'Racist Discrimination' At Premiere Party Venue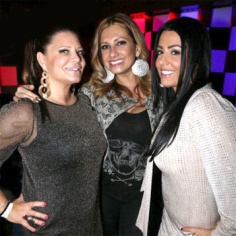 The Mob Wives are furious over the "racism" and "discrimination" relayed by management at their premiere party venue on Sunday night and VH1 star Karen Gravano exclusively tells RadarOnline.com she does not take discrimination lightly.
According to email correspondence exclusively obtained by RadarOnline.com, the marketing manager at Frames Bowling Lounge in NYC, Frayda Resnick, made it explicitly clear in writing they wanted no publicity relating to urban or hip hop culture and even said they wanted no rappers at their venue for the party.
Article continues below advertisement
"Please make sure there is no press leaked to any website or outlets that covers urban or hiphop events," Frayda wrote to Sibrena Stowe de Fernandez, President of La Chic Media, who was running the party.
"That is not our target demographic and feel it would send the wrong message about our low-key venue… We do not want any rappers or Love and Hip Hop artists."
"I'm completely outraged at Frames Bowling Lounge and especially at the management. I can't believe that in 2013 the ignorance of racism still exists. If I would have known prior to our contracts being signed I would have canceled," Karen told RadarOnline.com in an exclusive interview.
"I would never subject my friends to this type of treatment. I have a bi-racial daughter and I do not condone discrimination of any kind."
Journalist April Dawn Ricchuito, who is a writer with VIBE Vixen and an editor with the Everything Girls Love magazine, RSVP'd for the party to Frayda because she was invited by cast member Ramona Rizzo - only to receive a shocking response.
"You are welcome to come, and we look forward to hosting you! Just one request: we absolutely do not want to be covered on your site, as we feel it is not our target demographic," Frayda wrote.
Article continues below advertisement
"Please do not mention our venue on your VIBE site or HipHop Culture magazine."
April later relayed her concern to Sibrena saying, "It did not make me feel welcomed to come at all."
"When I was dealing with the manager, Frayda Resnick, it was about to go left real fast," Mob Wives star Karen told RadarOnline.com of the premiere party.
"I'm trying to be the better person and not flip out on anyone but I was about to smash the b*tch in the face with her f**king bowling ball! I will never patronize that place nor would I recommend it to anyone that I know. The management and staff was rude, racists and disrespectful."
However, Frayda insists it wasn't racism or discrimination on behalf of the bowling alley — it was just managing expectations they had agreed on for publicity of the event.
"The MOB Wives event was set up as barter for positive press related to High Fashion, NYC Society and Gossip. We were specific when designing the barter as to which press outlets would receive the release, and what the story angle should be. The night was designed to be about hosts and guests having fun and relaxing at an upscale venue, for the premiere of a new Season of the hit reality show. Any other requested press angles, relating to attendees other than the 3 hosts, or alternate press outlets were respectfully declined," Frayda told RadarOnline.com.
Article continues below advertisement
"The management and service staff at Frames were nothing short of gracious and accommodating towards the 150 guests and friends of the MOB Wives cast that came to celebrate the Season 3 Premiere Party on Sunday night. The 2 hours of open bar and 4 hours of bowling, passed appetizers and transportation for the hosts were all sponsored entirely by Frames Bowling Lounge.
"Frames is a professional and meticulously run establishment, and we value patronage from all visitors, regardless of their race, gender, height, weight, professional background or ethnicity. We have a strict dress code, and expect all guests of the venue to respectfully adhere to it. Our security staff is set up to deny access to any hostile or combative guests, and they performed as instructed."