Go Big Or Go Home! Mob Wives Star Big Ang Parties At Gay Bar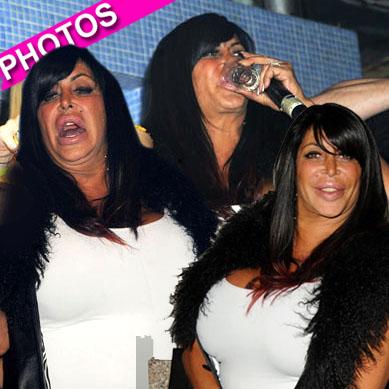 Angela 'Big Ang' Raiola knows how to have a good time!
The surgically enhanced Mob Wives star let loose in New York City over the weekend, hitting a gay bar with a few of her costars and throwing back some shots – and RadarOnline.com has the photos.
Wearing a tight white tank top with blue jeans, a leather and fur vest and furry boots, the heavily endowed reality star spent her Saturday night at Splash bar with Carla Facciolo, Lil Jen and Glam Fairy star Jon Kutlu.
Article continues below advertisement
Earlier this year, Big Ang exclusively admitted to RadarOnline.com that she is "obsessed" with plastic surgery.
"My boobs were so big after I gave birth, I was a 42 triple J so I had to do something," Ang explained. "After I had the baby my boobs were dead. They just were prunes down to my waist. After my first surgery, I had them redone in 1995. They took the sponges out and put in saline implants. I had a double 36 double D when I was only 14 years old, so I have always had a big chest."